The first Qualifier and Eliminator of the high-profile Indian Premier League was shifted to Delhi from Chennai, putting an end to the uncertainty over the venue for the crucial matches.
The decision to shift the play-off matches to Feroze Shah Kotla was taken by BCCI President N Srinivasan and IPL Chairman Rajeev Shukla after the Tamil Nadu government stuck to its stand of not allowing the Sri Lankan players to play in the wake of the strong anti-Sinhalese sentiments in the state.
"The play-offs have been shifted to Delhi from Chennai. The issue was discussed in detail with BCCI President Srinivasan before it was decided to shift the venue," IPL Chairman Rajeev Shukla said.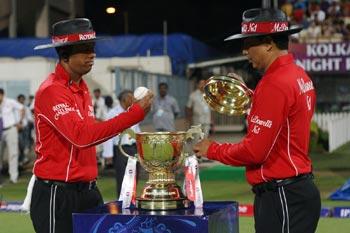 The first Qualifier was originally scheduled at the Chepauk on May 21 and the Eliminator on the following day. The matches will now be held on the same dates at Kotla.
According to IPL sources, Bangalore and Pune were also in the reckoning but the Governing Council opted for Delhi as the venue for the two matches.
The IPL Governing Council, which had met in Chennai on April 22 to take a decision on the issue had felt that the state government's views on whether they would re-consider their stand on Sri Lankan players should be taken into account before taking a final decision.
The IPL had written to the state government for their views on whether they would allow the Sri Lankans to take part in these two matches.
Apparently, their efforts failed, prompting the authorities to shift the venue.
The decision to shift the venue to Delhi will allow the franchises to field their best-playing eleven for these two important matches.
The Tamil Nadu government had barred Sri Lankan players or match officials to play or officiate in Chennai in the wake of the anti-Sinhalese sentiments prevailing in the state. The Governing Council had then decided to go ahead with the matches in Chepauk but without Sri Lankan players.
However, the franchises were not too happy with the decision but considering the logistical nightmare it would have posed to redraw the schedule with a new venue, they decided to co-operate.
The franchises wanted the IPL Governing Council to review the decision for these two matches, arguing that these games were crucial and it would unfair on them if they could not be in a position to field their best team.
Photograph: BCCI