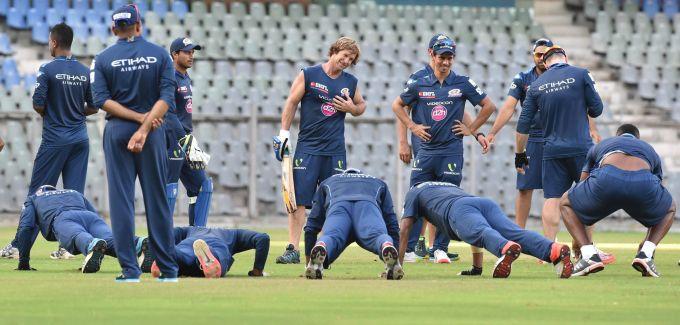 IMAGE: Jonty Rhodes jokes during practice session at the Wankhede Stadium. Photograph: PTI
Mumbai Indians announced the appointment of New Zealander James Pamment as its new fielding coach on Thursday.
Pamment (49) will replace former South African great Jonty Rhodes who has been part of the outfit for nine seasons since 2009 and has now expressed desire to move on to spend more time on his personal business ventures, Mumbai Indians said in a release in Mumbai.
Attributing Rhodes' work ethics as key to MI's successful journey, Mumbai Indians owner Akash Ambani termed his contribution as "invaluable" and "unmeasurable in words".
"Jonty has been a pillar of strength and energy in Mumbai Indians. His contribution cannot be valued in words," Akash Ambani was quoted as saying in the release.
"James is an experienced coach at the international level having worked with New Zealand Cricket as fielding specialist and development. What impressed us was the way James had coached Northern Districts in Champions League T20 in 2014, and to be honest, his side's fielding unit was one of the best Mumbai Indians had ever faced," added Ambani.
James, who held the Head Coach position at Northern District before accepting the new assignment, said that he was excited to take up the new job.
Rhodes said his journey with the franchise has been remarkable.
"Over the last nine years, Mumbai Indians has set sporting benchmarks both on and off the field, and personally, it's been quite a remarkable journey for me to work with fantastic set of individuals like Sachin (Tendulkar), Rohit (Sharma), Anil (Kumble), Ricky (Ponting), Mahela (Jayawardane) and all the support staff and players over the years," Rhodes said.