Rajasthan Royals' medium pacer Siddharth Trivedi said that the team's strategy of playing only pace bowlers worked to perfection against Kolkata Knight Riders.
Insisting that it was a well-planned strategy, Trivedi said: "It was our strategy which helped us to notch a crucial victory. We did not have any spinners in the eleven and the pace bowlers did it for us. We were able to grab wickets whenever we needed them."
Rajasthan Royals outplayed the defending champions, winning by 19 runs, to register their second successive victory in the Pepsi Indian Premier League, in Jaipur, on Monday night.
Trivedi, who picked three for 23 to bag the man-of-the-match award, said the wicket offered some movement.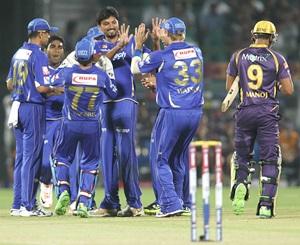 "It was a good wicket to bowl on. It offered some movement and the ball was seaming on it. Everything went according to our plan.
"We knew if we grab few early wickets we could be able to exert pressure on them," the lanky medium pacer said.
Trivedi said although England batsman Eoin Morgan's 38-ball 51 and his brief partnership with Rajat Bhatia gave some headaches to the hosts, they were confident of pulling it off in the end.
"We had them under pressure but Morgan played a fine innings; but the wickets kept falling at the other end. The partnership between Morgan and Rajat Bhatia (12) did look threatening but we knew it was going to be too difficult for them," he said.
Trivedi felt that the dismissals of KKR skipper Gautam Gambhir and Jacques Kallis in quick succession made Royals' job easier.
"We were able to grab a few early wickets including that of Kallis; and when Gambhir too fell, the match had tilted completely in our favour. Morgan's wicket sealed it for us."
He, however, refused to believe that the IPL-6 wickets are proving to be beneficial to the bowlers, saying the tournament still has a long way to go.
"Yes, till now the bowlers have done well but it is also due to the fact that in the home games the teams prepare wickets that suit them to certain extent.
"But it is too early to say that bowlers are doing well. The tournament still has many matches left and it might now be batsmen's turn," Trivedi said.
"The bowlers have a lesser role in this format and we have to keep working out. The batsmen also help us work out new things by giving us advice in the nets about where to pitch the ball. It is a team work," he explained.
Trivedi expressed gratitude to the Royals team management for showing faith in him.
"As for myself, I am thankful to Rajasthan Royals who have kept faith in my abilities since the first edition of the IPL. They have provided me such a big stage and exposure to show case my talent," he added.
Also Read
-Pacers help Rajasthan upset champions Kolkata
-IPL PHOTOS: Rajasthan Royals vs KKR, Match No. 8
-PIX: Sexy Shilpa Shetty enjoys IPL family moment!
-Trivedi's twin strike proved 'too much' for KKR
-RR vs KKR: How Trivedi swung it Rajasthan's way
-We batted poorly, says disappointed Gambhir
Photograph: BCCI