Mumbai Indians will be hoping that Kieron Pollard recovers in time from his finger injury and is available against their Indian Premier League encounter against Chennai Super Kings in Mumbai on Sunday.
"Obviously, Pollard is feeling better as he's practicing today. It's not a fracture, that much I am sure. But I am not exactly sure what it (injury) is and I'm sure the call on him will be taken tomorrow," informed in-form batsman Dinesh Karthik.
Pollard sustained finger injury during the last match against Sunrisers Hyderabad when his finger jammed into the ground.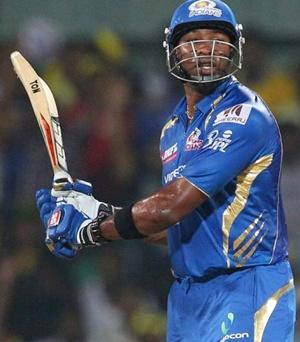 About the CSK match, Karthik said a clash between the two teams always brought out the best in terms of competition.
"It's always a great battle. They are a team in form and are doing very well. They have won many (seven) games in a row. It's will be an interesting game and we are looking forward to it. It's always been close encounters with CSK, so I'm sure it will be a good game tomorrow."
Asked which area caused some concern for Mumbai, wicketkeeper Karthik's answer was "death bowling."
"Our death bowling can get better. That's an area we tend to leak a lot of runs. It's an area where we are really working on. We have always depended on (Lasith) Malinga.
"It's important that people who bowl around him also bowl well so that it makes things easy for us. If we can start well with initial wickets and we can bat with intent throughout the 20 overs it will be very helpful," said Karthik.
He also defended the Sri Lankan slinger who has not had the sort of success so far that he was expected to taste before the start of the tournament.
"He's been around for a long time now....5-8 years. It's always a question of people knowing him. I am sure there are a lot of people who have played him around the world. But he's such a clever bowler, he's aware of that and is developing his skills even better to bowl at the death."
"He's played so many games against India so a lot of Indian players are used to playing him as well. So he's not an unknown commodity any more but having said that he's a great bowler, one of the best in this format. We trust him a lot and we are sure he is keen to deliver for us," said Karthik.
Karthik feels MI need to win at least three more games out of their last six to make the four-team play-off phase.
"We would like to win a minimum of three more matches and guarantee a place (in the play off). Obviously, we are capable of winning three out of six. Most important (thing) is to take one game at a time and do as well as we can."
About his own form, that has seen him score 331 runs with two half-centuries, Karthik said,"(It's) just the confidence I have taken from the domestic season. The difference between a good and a great player lies in consistency. As long as I am consistent and deliver for my team, I think I will be doing my job."
Sachin Tendulkar has not been among the runs on a consistent basis but Karthik said the team management was very happy with the way he and Dwayne Smith had given good starts to the team.
"We are very happy with the way Smithy and Sachin paaji are doing. They are getting us a start and getting it at a fair clip as well. We are very happy with the way things are going," he said.
Karthik was sure dew would not be a factor as it was the case in their close victory over Kings XI Punjab in their previous home game.
"We see in the evening once the dew sets in it is very hard for the bowlers to grip the ball and the spinners find it very hard to bowl. Luckily for us they bowled very well in the last game. We held our nerves in the end and pulled it off," said the 27-year-old player.
"Against Kings XI, there was a lot of dew and the ball was really coming on to the bat. When we started (batting first) it (wicket) was doing a bit. We obviously believe we can get the score on board to defend it," he added.
Photograph: BCCI