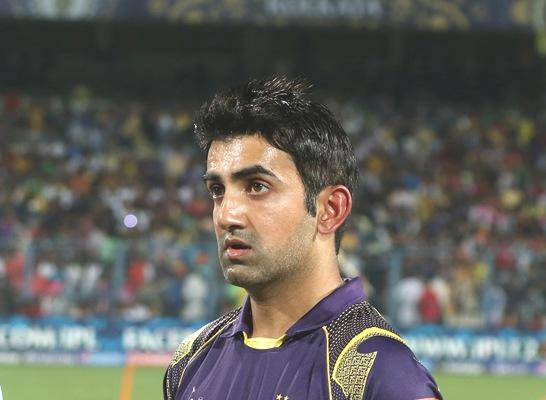 Kolkata Knight Riders captain Gautam Gambhir. Photograph: BCCI
Having beaten them thrice last season, Kolkata Knight Riders skipper Gautam Gambhir expressed hope of continuing their unbeaten run against Kings XI Punjab in the ongoing eighth Indian Premier League.
KKR defeated Kings XI Punjab in the final of the IPL-7 last year for their second triumph in the cash-rich T20 event and Gambhir sounded confident ahead of their clash in Pune on April 18.
"Last year we have stopped them thrice, hope this time too we will win. There's still pretty much time left. We'll think about our opposition when we reach Pune," Gambhir told reporters in Kolkata.
Chris Gayle blasted 96 off 56 balls to guide Royal Challengers Bangalore to a three-wicket win over KKR in their last outing.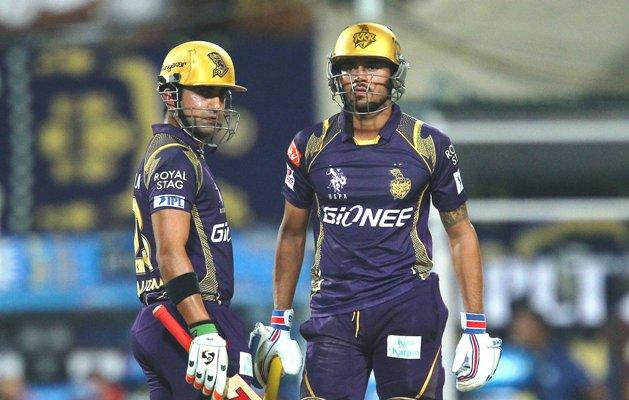 Gautam Gambhir, captain of the Kolkata Knight Riders, with teammate Manish Pandey during the Indian Premier League match against Mumbai Indians. Photograph: BCCI
The two-time IPL winning KKR skipper, however, said there was nothing to worry about and termed them the most consistent team of the tournament in last three years.
"We did not play well. We have been the most consistent side in the last two-three years so there will be time when you have ups and downs. We have won one and lost one, I think it's not a bad start."
Their ace spinner, Sunil Narine, is yet to claim his first wicket after bowling with a corrected action but Gambhir said he would get into the act soon.
"He's still a pretty dangerous guy, here the wickets are pretty flat. Come the entire tournament he'll be a very successful bowler."
Gambhir also said it's unfair to compare rookie KC Cariappa with Narine.
"Narine is a class act and you cannot compare him to Cariappa. Let him settle down and he will do well," Gambhir said. Their star all-rounder Shakib Al Hasan, who has returned to Bangladesh to play the series against Pakistan, will be missed, Gambhir said.
"Shakib was a very important member and now we'll have to change our combination. We still have a couple of days to think about it. Obviously we'd want him back, he's a great asset both in batting and bowling.
"Hopefully we do well and once we are in the playoffs, he comes and play the last two game for us."