Struggling to repeat their last year's performance, defending champions Kolkata Knight Riders were dealt further blows as Jacques Kallis and Manoj Tiwary sustained injuries during their game against Mumbai Indians in Kolkata.
-IPL Stats: Rohit Sharma has safest hands
-Was Ponting right in his decision to step down?
-PHOTOS: Gayle celebrates 'Gangnam style' at IPL!
"Kallis has twisted his right knee while taking a dive. We will take a call on him in next 24 hours. As for Tiwary, he has had about three to four stitches after splitting the webbing of his right hand," a KKR team official said after their five-wicket loss to Mumbai on Wednesday night.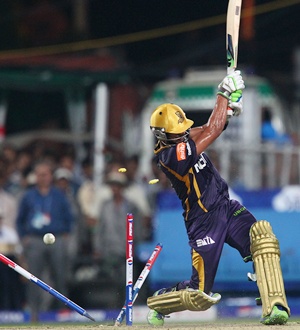 Defending a tricky 160 on a slow Eden wicket, Knight Riders missed Kallis' medium pace bowling as the South African all rounder did not take the field, hurting the team's cause deeply.
Tiwary misjudged a low catch off Ambati Rayudu and split his right-hand webbing while taking the forward dive. It is understood that Tiwary may be out of action for a few weeks.
All-rounder Laxmi Ratan Shukla has already been ruled out for 10 days with a ligament tear and missed the game against Mumbai Indians.
Having suffered five defeats from seven matches, Knight Riders are in deep trouble and will look to arrest the slide in order to finish in top-4 of the competition.
Photograph: BCCI