Gurunath Meiyappan placed three bets this year, but the bigger problem for him is that he had passed on information regarding team strategy to the bookies through Vindoo Dara Singh.
Police sources tell rediff.com during the interrogation Meiyappan said that he was coaxed to place bets by Vindoo.
"I was lured into this mess by Vindoo who said he had excellent connections with bookies. The bets that were placed were only on games relating to Chennai Super Kings. The bets went up to Rs 1 crore," Meiyappan said.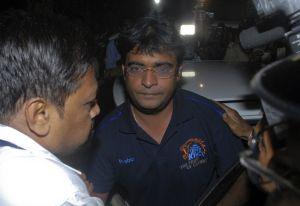 However what has the police more interested is that Meiyappan had passed on vital information to the bookies through Vindoo on the team's strategy.
Even the police grill him for more information, he said that he wished to cover up the losses through this.
"I thought that by passing on strategy such as batting-bowling orders, it would make no difference to the game. The money was used to cover the team's losses," he added.
All through the questioning Meiyappan blamed Vindoo, but maintained that no attempts were even made to fix games or even indulge in spot fixing.
The police have now landed at his Chennai residence and are conducting a search. They are looking for notes and documents which would help them strengthen their case against him.
Photograph: Reuters