'Playing with international stalwarts in the IPL makes a big, positive, difference.'
'Sometimes you just see how a player reacts to tension, reacts to pressure. That's a bit of a learning curve as well.'
Harish Kotian/Rediff.com reports on the legend's encounter with the Mumbai cricket team.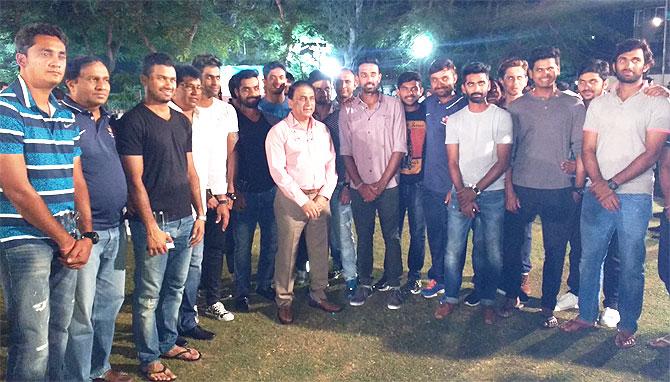 IMAGE: Sunil Gavaskar with the victorious Mumbai Ranji Trophy team at the Cricket Club of India in Mumbai on Wednesday, March 9, 2016.
Batting legend Sunil Gavaskar believes the standard of India's domestic cricket has risen considerably because of the Indian Premier League.
Asked if the franchise-based cash-rich, Twenty20 tournament has helped improve domestic cricket in the country, Gavaskar replied: "Absolutely!"
"Look at how Bangladesh cricket improved after the Bangladesh Premier League. The BPL stopped after a year or two, but those couple of years the Bangladesh players were able to interact with international players and pick up things from them."
"Sometimes you just see how a player reacts to tension, reacts to pressure. That's a bit of a learning curve as well."
"I am pretty certain someone like a Virat Kohli to be in the same dressing room as Sachin (Tendulkar) or Rahul (Dravid) or V V S (Laxman), and to see how they react to pressure and how they change their game under pressure for the benefit of the team, has helped him."
"So, definitely, a lot of these players playing with international stalwarts in the IPL makes a big, positive difference."
The 66-year-old legend was in Sydney when the Ranji Trophy final between Mumbai and Saurashtra was played in Pune, which the former won to claim its 41st title.
"I was in Sydney and I was a bit nervous at the end of the second day when they (Mumbai) were only 27 runs ahead with two wickets in hand. I was keeping in touch with (former Bombay Ranji Trophy player and one of Gavaskar's closest friends) Milind Rege and he was informing me."
"I wasn't checking so much with former Bengal player Rohan (Gavaskar), but I was checking with Milind and getting information. I was a bit nervous, but the way Siddhesh (Lad) played -- I saw a little bit of the highlights -- an outstanding innings. Because it was a question of batting fourth, which is never easy."
"Even if you are chasing 200, it's never easy. Of course, luckily, Saurashtra missed a few catches. But like I said to them (Mumbai's players), they won in style."
"Winning by an innings is something like what Mumbai used to do at their peak in the '70s and '80s under Ajit (Wadekar) and all those captains, winning by big margins and completely outplaying the team."
"I was very happy with that. The award that I was getting in Sydney -- Pride of Maharashtra award by MIFTA (the Marathi International Film and Theatre Awards) -- I wouldn't have enjoyed it as much had it not been for the Ranji title," he said, on the sidelines of a felicitation for Mumbai's victorious Ranji Trophy team hosted by the Cricket Club of India, in Mumbai on Wednesday.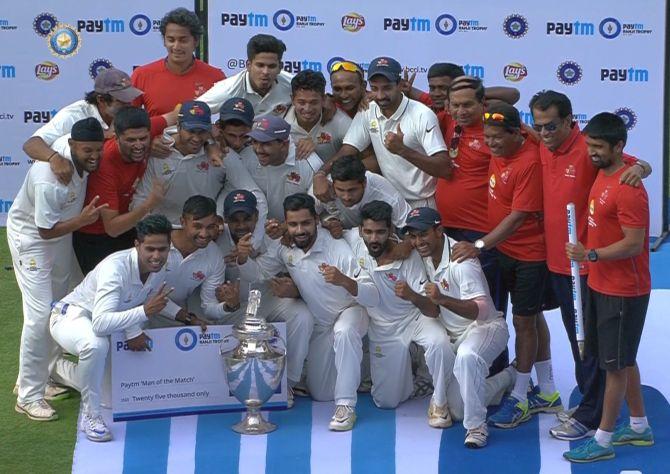 IMAGE: The triumphant Mumbai team poses with the Ranji Trophy after beating Saurashtra by an innings and 21 runs in the final in Pune. Photograph: BCCI/Twitter
Asked if he was happy with Mumbai winning its 41st Ranji title out of the 82 overall, he quipped: "I am more concerned about the 41 times that they didn't win!"
Gavaskar had a long chat with Mumbai youngster Shreyas Iyer, who aggregated a massive 1,321 runs in 11 matches, at an average of 73.38, and scored four hundreds and seven half-centuries.
He urged the 21 year old to make most of his good form and look to get big double hundreds rather than just being content with scoring centuries.

"Anybody who gets a thousand-plus runs (in a season) has to be a special talent. I am hoping that he goes on from there. He probably might not get a season like this, but even if he gets an 800-plus season, that will be fantastic," Gavaskar, who scored 774 runs in his first Test series against the West Indies in 1971, said.

"In a four-day format, the only way to state a case for selection for the India team is to show that you are different from others. There are lots of people who get a hundred. When you get 250, you are different. Not everybody gets 250. So the selectors feel this guy is different," Gavaskar, who scored a record 327 in a university game shortly before he was selected for India for the first time, pointed out.
"When you get 250, follow it up with a 200, then again a 150, maybe. Once you have got that 250, you guys are going to write big, so the headlines are there."
"Since there are six, seven league games happening at the same time, lots of hundreds happen, but this stands out. Otherwise, a hundred or a five-wicket performance will only feature in regional papers. But for selectors to notice, you need a big double hundred. Doesn't matter which region you are from, 250 will always be a headline. It's a simple thing yaar," the first batsman to score 10,000 Test runs said.
"A hundred is a knock on the door, and the selectors are not 20 or 30 year olds; they are getting into their 40s and 50s and, like me, might be hard of hearing. A little bit of knock might not be heard by them, so you have got to knock a little harder with a 150, 200; you break the door down so that they no longer have to hear you; they are actually seeing you. That's what I meant by telling him (Shreyas Iyer) to score 250."