Shreyas Iyer, whose swagger is taking batting to the next level, tells Harish Kotian/Rediff.com that when he gets the opportunity to don India colours he will make it count.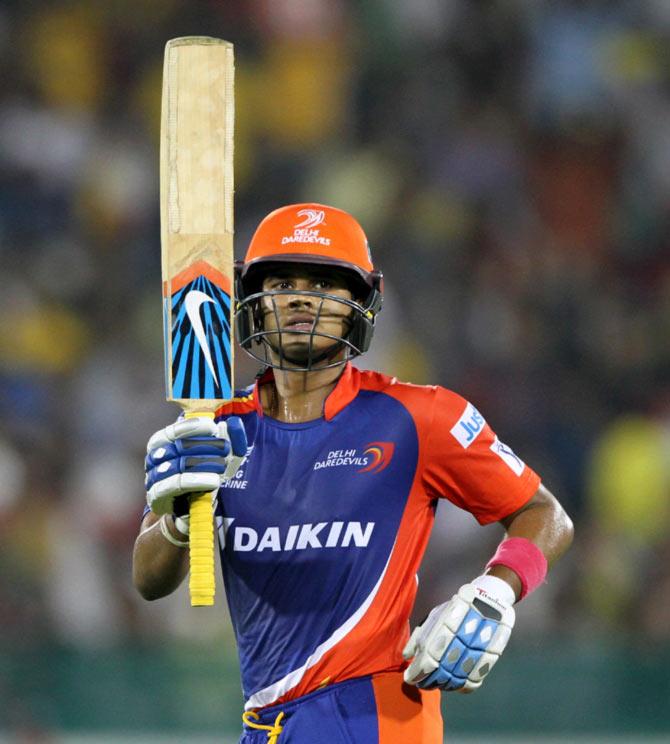 IMAGE: Shreyas Iyer celebrates his half-century for the Delhi Daredevils in IPL 8 in 2015. Photograph: BCCI
He has the same attacking approach as Virender Sehwag and, like the former India opener, Mumbai youngster Shreyas Iyer even hums songs when batting in the middle.
"Actually, I also sing, but only when I am at the non-striker's end. I think it increases my intensity level," reveals the 21 year old who had a sensational 2015, shredding every bowling attack he came up against to pieces and scoring runs in tons.
Not many, including Yuvraj Singh, will forget Iyer's breathtaking 200 off 176 balls, laced with 25 fours and five sixes, against Punjab in the Ranji Trophy game at the Wankhede last October.
The Mumbai right-hander is currently the highest run-getter in India's premier domestic cricket tournament, aggregating 930 runs, including three hundreds and four fifties, in eight matches, at a strike rate of 95.48 in the group stage.
That's not all. He smashed 284 runs in eight matches, at a strike rate of 149, in the Mushtaq Ali T20 domestic tournament to further showcase his prowess as one of the most dangerous batsmen on the domestic circuit.
In his debut season in the Indian Premier League last year, he gave indications of what to expect of him as he exceeded all expectations to finish as the highest run-getter for the Delhi Daredevils, with a tally of 439 runs in 14 games.
Many felt his inclusion in India's team for the limited overs series in Australia would be a formality, but the selectors preferred to let him continue his golden run with the bat in domestic cricket.
Harish Kotian/Rediff.com caught up with Iyer on the sidelines of the Mushtaq Ali T20 tournament
How do you approach batting? Does attacking the bowlers come naturally to you?
I like to dominate from ball one. If I see the ball is pitched in my half I try to play an attacking stroke. That helps me to get on top of the bowler and dominate the innings.
So, is attack is the best form of defence for you?
That's what I believe. The bowlers think I have scored a lot of runs in my previous game so they come with that mindset (of keeping me quiet). I like to put pressure on them right from the first ball by going for my shots.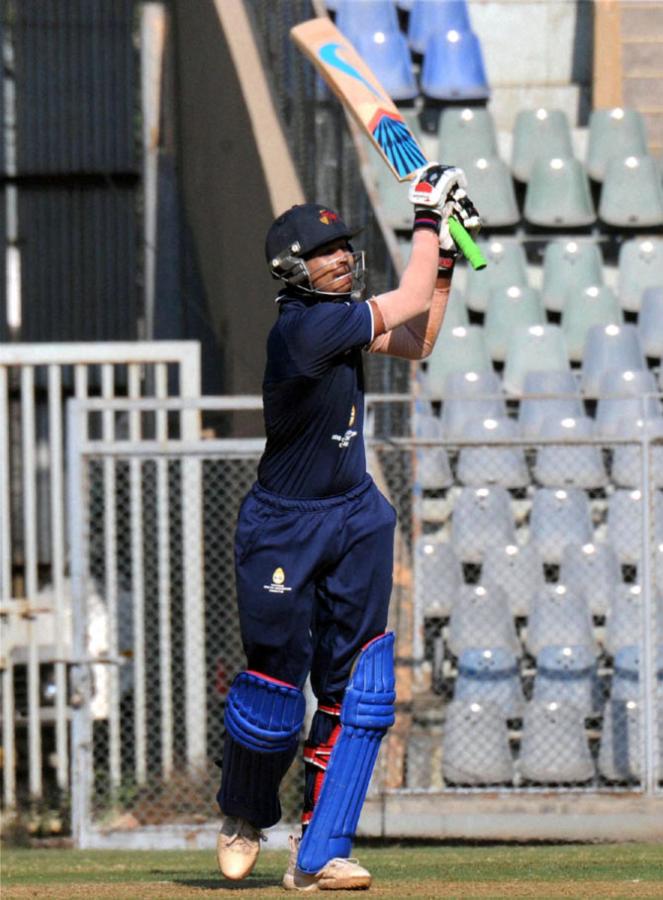 IMAGE: Shreyas Iyer hits a six for Mumbai during the Mushtaq Ali T20 Trophy game against Vidarbha. Photograph: PTI
Is there something like taking your time... defending a few balls and getting your eye in before you start playing your shots?
Before the match starts I visualise that I will try to rotate the strike and take singles. But if I see that the players batting before me are struggling, and the wicket is not playing that good, I try to dominate from the first ball.
If the wicket is playing good, I try to settle down, get my eye in and then take on the bowlers.
Do you adopt the same approach across formats or do you change your style when playing the longer format, like the Ranji Trophy?
I think scoring runs in the Ranji Trophy is a bit easier than in T20s because the fielders are always inside the circle at the start of the innings and look to attack. So if you push in the gap you will get runs. At the start it is not quite difficult, once you settle down it becomes easier.
Run-scoring is a lot easier in the Ranji Trophy than in Twenty20 games.
A lot of people compare you with Virender Sehwag, who liked to dominate the bowling from the start. Have you modelled your game on anyone?
I don't like to follow someone, but I really like A B de Villiers as a batsman. I think he has got all the strokes and plays according to the situation.
If the situation demands that the team has to defend and bat cautiously, he has that form of game too.
De Villiers is capable of playing some crazy shots, especially in limited overs cricket. In the IPL we have seen him sweep someone like Dale Steyn or play the reverse sweep to a fast bowler. Have you tried to imitate or practice any shot of his?
I have not tried any of those shots because it is really difficult to practice them. But I would definitely love to try some of those shots in the future because the T20 format demands a lot of stroke-play and innovations.
De Villiers is a totally different kind of player. If I try and emulate him I think I will forget my strokes (smiles). It is better to stick to my game.
Would you rate 2015 as the best year as far as your cricket is concerned?
It was a really good year for me. I am performing quite well and enjoying the flow of my batting. I am just backing my process and my ability.
I know I have a lot of potential to score big runs. So, yeah, I am trying to take it game by game and see that I make it big.
There was a lot of attention on you during the IPL after the Delhi Daredevils bought you for Rs 2.6 crore (Rs 26 million), quite a big sum for a player who had not even played a full Ranji Trophy season.
Considering the huge expectations, was it satisfying to perform so well with the bat in the IPL?
Firstly, I was not thinking of the amount they paid for me at the IPL auction. I was really grateful that I got that much, but there was no pressure on me. I got runs behind me and I just had to continue in the same vein and contribute towards my team's success.
I was aware that whenever I performed well with the bat for any team I played for, most often than not they ended up on the winning side. So I just stick to my process and deal with whatever comes my way.
But, yes, doing well in the IPL really boosted my confidence. Playing alongside top international players from around the world gives you a lot of confidence when you return to domestic cricket.
You seem to find it a bit easier against the domestic bowlers. You know how tough it is when facing international bowlers, so when you play against bowlers in domestic cricket you find it easier.
I would not say easy, but you get a bit mature playing with international players.
You also get to learn about the mindset of international players when they play in pressure situations, that benefits you a lot.
At the Delhi Daredevils you had Gary Kirsten as coach.
Actually, I wasn't going to him. He used to come and talk to me. He used to tell me, 'You have really good talent, just back it and see to it that the second season is really important for you as a player. Go and score big in the second season so that people don't talk much that you have only scored well in the first season. That should not happen.'
Importantly, he gave me total freedom when I was at the Delhi Daredevils. I scored a hundred in the practice game ahead of the IPL last year so that also helped.
You also had a chance to interact with one of India's greatest batsmen, Rahul Dravid, when you played for India 'A' in the series against Australia 'A'. What did you try to learn from him?
He is a really good coach. You can accumulate a lot of experience just by talking to him. He is the right kind of guy who approaches you directly and talks about your batting. He also gave the same advice as Kirsten, like sticking to the process what I followed in the first season.
His advice was clear: It doesn't mean that if you scored runs in the first season, you will score equal number of runs in the second.
Someone like Dravid talking to me about my game and giving me such useful advice certainly boosted my confidence.
Were you disappointed that you could not carry on your good domestic form while playing for India 'A'? You got starts in three of the five innings, but failed to convert them.
It was really disappointing. I got good starts, but could not convert them into big scores. I was a bit impatient, I would say, because the bowlers at that level also come with good planning. They analyse everything, how each individual plays.
It was a disappointing performance. I was in form at that moment, but could not make it count.
You smashed a double century, off just 175 balls, for Mumbai in the Ranji Trophy match against Punjab at the Wankhede. Would you rank that as one of the best innings of your career so far?
It was a really good innings for me. I was batting overnight on 62 not out and I knew that I was going to score big because of the start I got on the first day. I hit their left-arm spinner for 20 runs in an over, so that really boosted me.
I was playing each ball on its merit. I was not trying anything before I got that hundred. Once I crossed the hundred I was seeing the ball like a football. I was placing the ball in the gaps and getting fours and singles; there was no pressure on me.
When I completed the double century, I thought it was due since I had not played a big innings like that before.
Do you enjoy hitting sixes? This season you hit 22 sixes in eight matches in the Ranji Trophy group stage, eight sixes in six matches in the Vijay Hazare One-Day tournament and 10 sixes in the Mushtaq Ali Trophy T20 tournament.
If the ball is in my slot I try to score runs, in fact maximum runs off it!
I just try to clear the boundary. If the fielders are standing inside the circle I try to take a risk. Even if it is the first ball I am facing, and if the spinner bowls a flighted delivery, I will step out and will look to clear the field. That's how I think.
I know that if I time the ball well it will clear the boundary.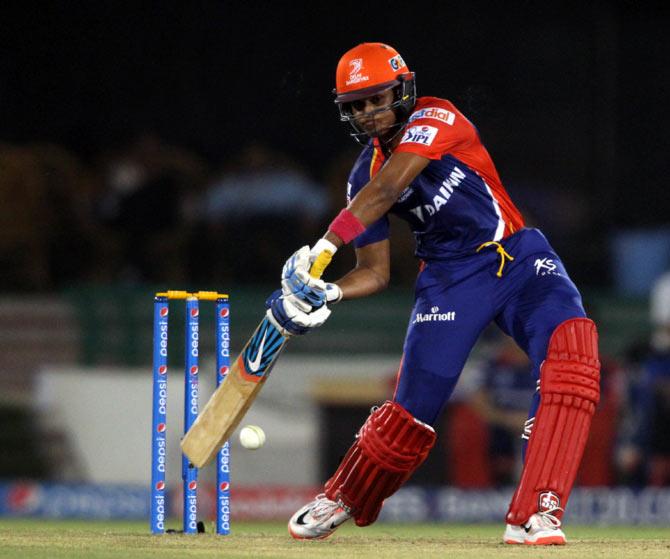 IMAGE: Shreyas Iyer hits out during IPL 8. Photograph: BCCI
Sehwag used to sing songs when facing fast bowlers. What is your mindset when you are out in the middle?
I also sing, but only when I am at the non-striker's end. I think it increases my intensity level. If I don't sing, then I remain calm. I become a bit casual and lazy. I have analysed this and have been working on it.
Since the second game of the Ranji Trophy this season (against Punjab), in which I got the double hundred, I started singing.
What kind of songs do you sing?
I sing Hindi songs by Arijit Singh, sometimes I sing English songs. I also sing motivational songs, songs which charge me up, it gives me a kick.
What does it mean to play for a team like Mumbai, which has produced greats like Sunil Gavaskar and Sachin Tendulkar?
They are very big players and they achieved a lot. They have been part of several Mumbai teams which won the Ranji Trophy and also a lot of titles at the international level.
I want to reach their level and win a lot of titles for Mumbai, that is what I plan to do. I know this is just the start. This Mumbai team has a few new players, but gradually we will pick up the pace and make sure we win a lot of tournaments.
In this age of video analysis, wherein each team, even at the domestic level, tries to work out the strengths and weakness of the opposition, was the second season of the Ranji Trophy more difficult, especially after your good showing last year?
In the first season you were unknown, but in the second season, the teams came prepared and everybody knew your game plan and what you were capable of...
I would say the second season was easier for me than the first.
In the first season, there was a lot of pressure because you needed to play well, score a lot of runs and book a permanent place in the team.
In the second season I started scoring runs. After that double hundred the confidence level was totally different. From thereon I continued playing the way I wanted to and there was no restriction on me from my coach or the players.
A lot of performers in domestic cricket were selected for the ODI and T20 series in Australia. Were you expecting the call-up to the Indian team?
I was expecting a call for this Australia series, but, unfortunately, I was not picked. It is fine, I will get my opportunity.
I am waiting for the perfect moment. Whenever I get an opportunity I will make sure that I will make it big and make the most of it.
Does the India cap look closer than it was maybe a year or so back?
Yes, it does. It is knocking on my door. I just need to open the door and take it. I am just waiting for the opportunity to come along.
Even if I don't get it, it is fine. No, actually, it is not fine! (smiles)