Chennai Super Kings captain Mahendra Singh Dhoni was on Sunday fined after his side maintained a slow over rate during their Pepsi IPL match against Kolkata Knight Riders in Chennai.
- IPL PHOTOS: Chennai Super Kings vs Kolkata Knight Riders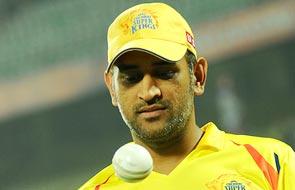 At the end of the match, Chennai Super Kings were assessed to be two overs behind the required rate after allowances were taken into consideration.
Since it was his first offence of the season under the IPL's Code of Conduct relating to minimum over-rate offences, Dhoni was fined US$ 20,000.
Chennai outclassed Kolkata by 14 runs to jump to the top of IPL standings.