Chennai Super Kings skipper Mahendra Singh Dhoni again tickled his fans' funny bones by cracking few more jokes on his IPL teammate 'Sir' Ravindra Jadeja.
"If ever Rajni sir had to face sir jadeja's bowling,the battle would be known as CLASH OF THE TITANS," Dhoni wrote on his Twitter handle.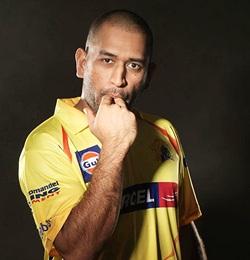 Dhoni cracked another joke on his teammate, tweeting, "On 17.4.13 no planes landed at delhi airport from 7.30pm till 8.30 as sir jadeja was playing badminton In a nearby farm house."
- Dhoni takes the mickey out of 'Sir Ravindra Jadeja'
- 'Sir' title is a joke, says Jadeja
- Dhoni on why god created Sir Ravindra Jadeja
This is the third time in less than two weeks that Dhoni tweeted on Jadeja.
Chennai, on Thursday, defeated Delhi Daredevils by 86 runs in their away tie to post their third win in the IPL.
Photograph: The Chennai Super Kings