Delhi Daredevils coach Eric Simons has said the team is "under pressure" after losing four matches so far in the sixth edition of the Indian Premier League.
"Even after losing matches, the team's morale is good and certainly there is pressure to win. We are under pressure to win every game. Hope this pressure will lead us to better results. The guys have got to be positive and have to work hard for tomorrow's game. That's all we can do," Simons said on the eve of their match against Royal Challengers Bangalore.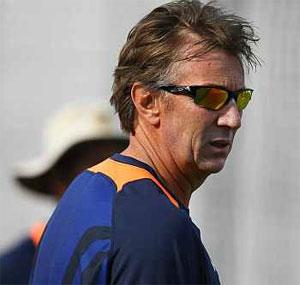 Simons said it can't get any worse than losing first four matches and being placed at the bottom of the points table.
The absence of three key players -- Kevin Pietersen, Virender Sehwag and Morne Morkel -- in the initial stages was the cause for the team's current position in the points table, Simons said on Monday.
"We have to get into the winning habit," he added.
Asked whether the team was losing because of young Indian players not coming to the party, Simons said, "Unmukt Chand has been unlucky but Manpreet (Juneja) has come through brilliantly. Siddharth (Kaul) bowled very well. Nadeem has come back into the game. I think youngsters have done what they are expected to do," he said.
Simons said that the boys should enjoy playing under pressure.
"We understand we are under pressure but if we don't enjoy pressure, then we shouldn't be here," he said.
Simons said every game from now on would be must-win for Delhi and "certainly we have to be competitive and we accept that."