Facing calls for suspension from the IPL following the arrest of its 'team principal' on charges of betting, Chennai Super Kings team today sought to distance itself from the scandal saying their players and support staff were not involved in betting or spot-fixing.
With CSK in turmoil after its 'team principal' Gurunath Meiyappa, who is also the son-in-law of BCCI President N Srinivasan, was arrested by Mumbai Police yesterday on charges of betting, captain Mahendra Singh Dhoni did not turn up for the scheduled official press conference on the eve of the IPL summit showdown.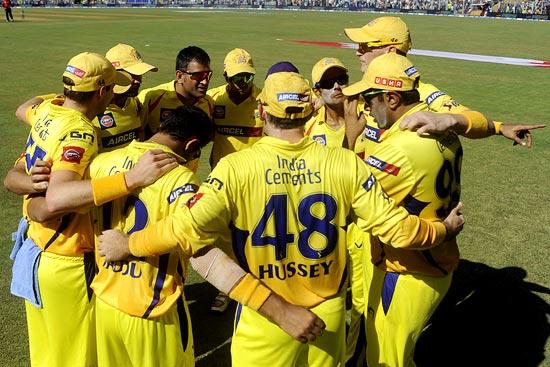 Instead, coach Stephen Fleming read out a statement, after apologising on behalf of Dhoni.
"Firstly, apologies from the captain. With the rain, we decided to keep the team back at the hotel for the preparation for tomorrow's match," he said.
"The players and the support staff are distressed by the allegations and the news reports concerning CSK franchise, the IPL and Indian cricket. We have played every match to the best of our ability. And we are very proud of our record of having appeared in the playoffs in all the six seasons of the IPL," Fleming said.
"The players and the support staff have no direct knowledge of betting or the separate spot-fixing allegations. As difficult as it is, all of our focus is on preparing for the IPL final tomorrow," he added.
The growing scale of the IPL spot-fixing scam had cast a shadow on Sunday's final between CSK and Mumbai Indians.
But it was later confirmed that the summit clash would go ahead as per schedule and the embattled CSK would also continue to be a part of the league despite the arrest of its top official on allegations of betting.