The Board of Control for Cricket in India (BCCI) said it was impressed with the facilities at the newly-built Shaheed Veer Narayan Singh International Stadium in Ranchi but added that it will analyse the preparedness of the venue to host international matches through the two IPL matches this season.
"The kind of infrastructure which they have got, I think this is the most suitable venue to be allotted for the international matches," IPL chairman Rajeev Shukla said during the match between Pune Warrior and Delhi Daredevils on Sunday.
- IPL PHOTOS: Pune Warriors vs Delhi Daredevils
Shukla said they will consider the demand of state board to bring Champions League T20 and other big matches at this venue.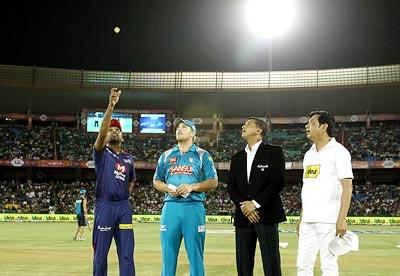 Appreciating the arrangements, he said that hosting IPL matches with such great facilities has opened up the door for international cricket at this venue.
Explaining the shifting of the play-offs to Delhi, Shukla said they were forced into it.
As per the rules of the IPL, the tournament final is played at the home ground of defending champions while the player-off matches are played at the grounds of runners up, informed Shukla.
Chennai were scheduled to host the play-offs as Chennai Super Kings had finished runners up to Kolkata Knight Riders last season.
However, on-going protests in Chennai against the Sri Lankan players forced us to shift the play-offs to Delhi, he said.
"We cannot force a team to play without full squad just because it has Sri Lankan players in their playing squad," Shukla said.
Image: Delhi Daredevils captain Mahela Jayawardene tosses the coin as Pune Warriors captain Aaron Finch looks on.
Photograph: BCCI