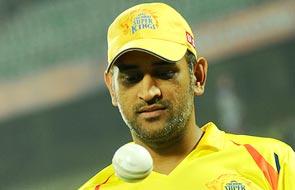 Chennai Super Kings went on expected lines and retained their top five players, including captain Mahendra Singh Dhoni, Suresh Raina, Ravichandran Ashwin, Ravindra Jadeja and Dwayne Bravo, for the seventh edition of the Indian Premier League.

"It's been a tough call. We wish we could retain more. Hopefully, we'll get them back in the auctions! #Super5," CSK said on their official Twitter account on Friday.
The IPL teams can retain a maximum of five players, including four capped Indians. The players will have a one-year term with the franchise, with the option of extending it for one or two additional years. The option has to be exercised on or before December 15 each year.

Having retained five players, Chennai exhausted Rs 39 crore from their total salary cap of Rs 60 crore available to them at the auction.
It also means that they will be left with only one 'rights to match' option at the players' auction on February 12.
- RCB retain Kohli, Gayle, de Villiers; name Vettori as coach
As per that ruling, once the bidding for any player who was in a franchise's 2013 squad is complete and the auctioneer is satisfied that no more bids will be forthcoming, the auctioneer will bring down the hammer, declare the player "sold" and then ask the relevant franchise if it wishes to exercise one of its remaining "rights to match".
If the franchise chooses to exercise the "right to match", it will take the player for the amount of the final bid that had been made in the Player Auction and no further bidding by any other franchises is possible.
The franchises may take no more than four capped Indian players via a combination of retention prior to the auction and the "right to match".

Dhoni, Raina and Ashwin have been with Chennai since the first edition of the IPL in 2008, while Jadeja joined CSK from the 2012 auction for a record US $2 million.
West Indies all-rounder Dwayne Bravo joined the team in 2011 from Mumbai Indians.
Chennai won the IPL twice, in 2010 and 2011, and made it to the play-offs every season.

Earlier on Thursday, Royal Challengers Bangalore retained Virat Kohli, Chris Gayle and AB de Villiers, while appointing New Zealand spinner Daniel Vettori as the head coach.

Friday is the last day for the franchises to submit their retention lists.