David Warner, Rohit Sharma, Virat Kohli, Gautam Gambhir, Suresh Raina and Zaheer Khan have all led from the front in IPL 9.
Harish Kotian/Rediff.com explains their winning ways.
The Indian Premier League has always been dominated by batsmen, and it is not surprising since T20 cricket is all about entertaining fans with fours and sixes.
In this ninth edition of the T20 league, it the captains who are at the forefront.
David Warner, Rohit Sharma, Virat Kohli, Gautam Gambhir and Suresh Raina have been excellent with the bat and led from the front, while Zaheer Khan, a surprise choice as the Delhi Daredevils skipper, has silenced critics with impressive performances with the ball and inspiring leadership.
Kohli, Gambhir, Warner and Rohit occupy the top four position so far in the run scoring charts in IPL 9, while Raina is in 10th place.
At the other end, David Miller was replaced as Kings XI Punjab skipper by Murali Vijay midway through the tournament after a poor showing with the bat and as captain.
Captain Mahendra Singh Dhoni, intriguingly, failed to inspire newcomers Rising Pune Supergiants, scoring just 173 runs from 9 games without a single half-century.
Harish Kotian/Rediff.com look at the captains who have provided the fuel for their teams' fortunes in IPL 9.
David Warner, Sunrisers Hyderabad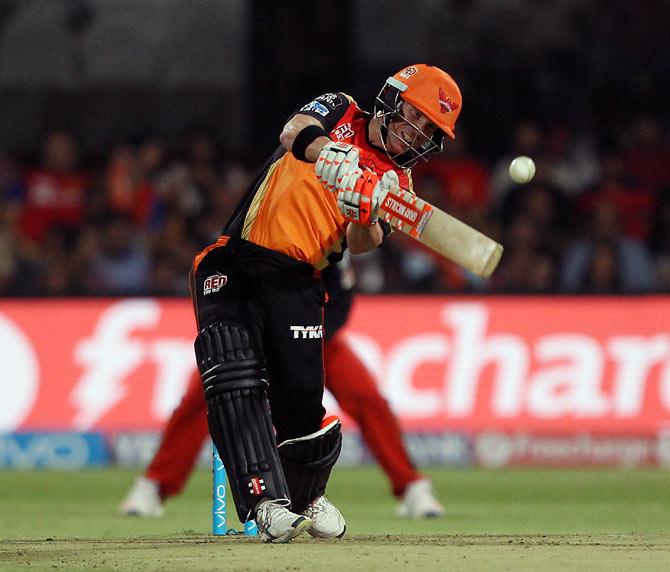 IMAGE: David Warner hits over the top for a six. All Photographs: BCCI
Without doubt, Warner is the man instrumental for Sunrisers Hyderabad' impressive showing.
The Australian left-hander has scored 386 runs, including 5 fifties, from 7 games and given his team good starts despite fellow opener Shikhar Dhawan's poor showing.
Such is the Warner Effect that 4 of his 5 half-centuries have brought victories for the Sunrisers.
He has the highest strike rate among the top 10 run-getters this season -- an amazing 168 -- and an average of 77.
Currently, he has hit the most sixes: 17.
Rohit Sharma, Mumbai Indians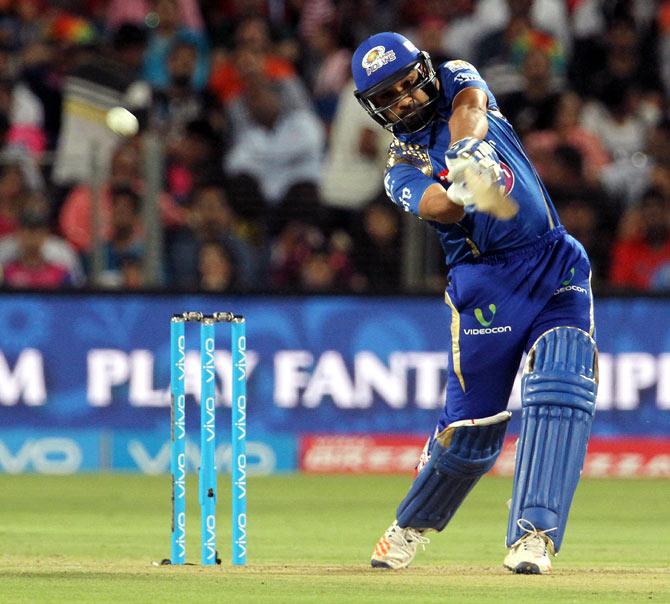 IMAGE: Rohit Sharma hits over the off-side.
Rohit has been integral to Mumbai Indians' comeback after a below par start.
The defending champions lost 3 of their first 4 games before storming back and winning 4 of their next 5 and taking second place in the 8-team league.
He has 383 runs from 9 matches, including 5 fifties, of which two were in the games against former champions Kolkata Knight Riders.
Virat Kohli, Royal Challengers Bangalore
IMAGE: Virat Kohli celebrates his century against the Gujarat Lions.
It is shocking to see the Royal Challengers Bangalore fighting for survival as they languish in 7th place, with just 2 wins from 7 matches, despite Kohli's superb form with the bat.
One of three batsmen to hit a century in this year's IPL, Kohli has scored 433 runs from 7 games with 4 fifties to lead the run scoring chart so far. But his bowlers's no show has meant that RCB have struggled to overcome the opposition despite posting big totals.
Even his 63-ball 100 against the Gujarat Lions was not enough to take RCB to victory.
Their only victories, against the Sunrisers Hyderabad and the Rising Pune Supergiants, were also courtesy of Kohli, who hit 75 and 80 respectively in the two games.

Gautam Gambhir, Kolkata Knight Riders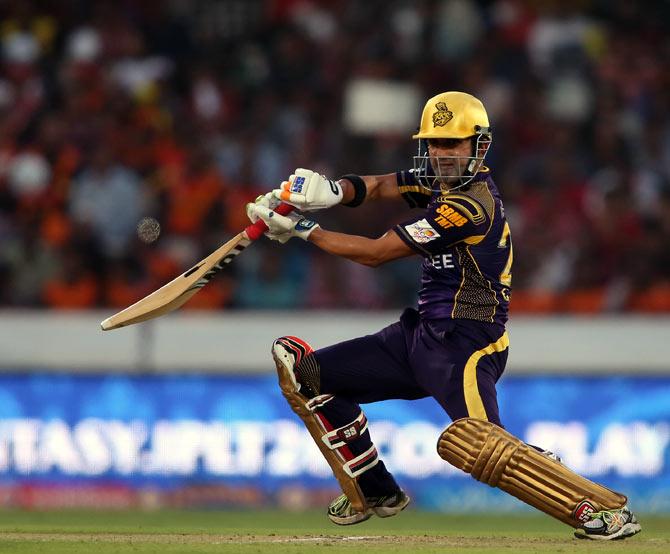 IMAGE: Gautam Gambhir square cuts.
Gambhir is another captain-batsman who has prospered as an opener in IPL 9.
The left-hander who last played for India in August 2014 showed he has much left in him after aggregating 393 runs, including 4 fifties, from 9 matches, at an average of 56.
Two of his half-centuries were against the Mumbai Indians but the Kolkata Knight Riders ended up on the losing side both times. His opposite number, Rohit Sharma, outgunning Gambhir with the bat.
With 6 wins from their first 9 games, KKR are on course to become the first team to win the IPL title three times.
Suresh Raina, Gujarat Lions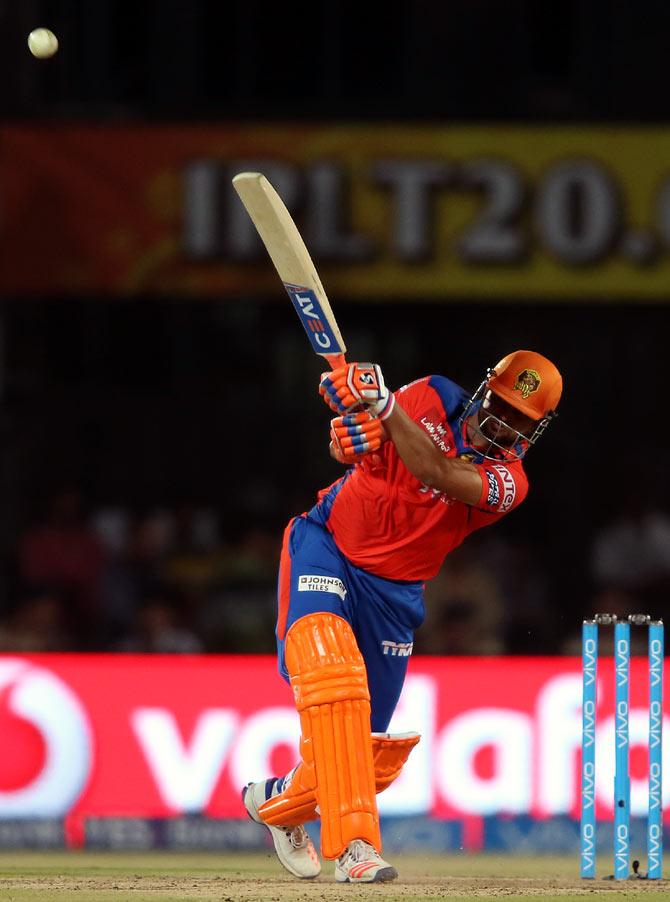 IMAGE: Suresh Raina hits a six.
Newcomers Gujarat Lions has been the most consistent team this IPL season and are second only to KKR on net run rate, with 6 victories from 9 games.
Raina not only deserves accolades for his captaincy, but also his handy contributions with the bat.
With 252 runs from 9 games he is Gujarat's top run-getter (and his team has Aaron Finch, Brendon McCullum and Dwayne Smith in it!) and a vital cog in the middle order.
The left-hander's only half-century came in a losing cause, against the Sunrisers Hyderabad.
Zaheer Khan, Delhi Daredevils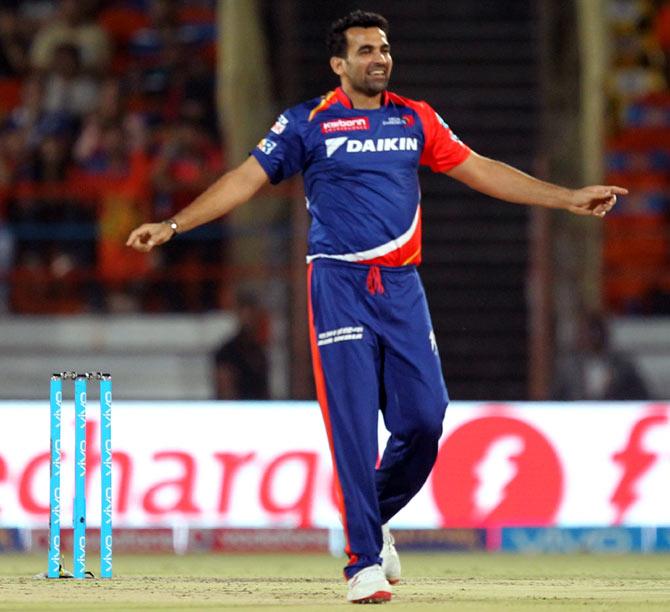 IMAGE: Delhi Daredevils Captain Zaheer Khan celebrates a wicket.
Zaheer Khan is the only bowler-captain in IPL 9 and has justified his elevation with steady performances with the ball, claiming 7 wickets in as many games.
The retired India pacer has formed an excellent partnership with another India great Rahul Dravid, mentor of the Daredevils.
The duo have inspired a young squad to punch above its weight, which has resulted in some superb performances that has seen the team win 5 of their first 8 games and occupy third place in the table.
One of the worst performing teams the last couple of seasons, the Daredevils have consistent this season, with Zaheer leading one of the most potent bowling attacks.
Please note: Statistics updated up to IPL Game 33 between the Delhi Daredevils and the Rising Pune Supergiants on May 5, 2016.)