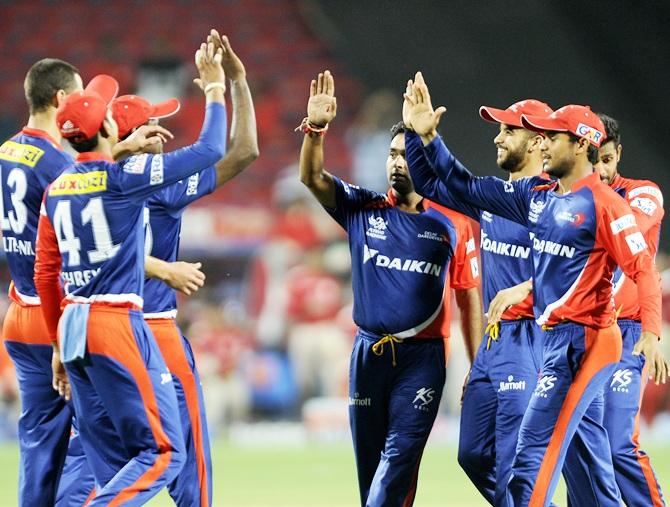 Delhi Daredevils players celebrate. Photograph: BCCI
Captain Jean-Paul Duminy praised Mayank Agarwal and Yuvraj Singh for their fine batting show to help Delhi Daredevils end their 11-match losing streak at the IPL by beating Kings XI Punjab by five wickets in Pune.
IPL: Mayank, Yuvraj help Delhi Daredevils end losing streak
"Great to have Yuvraj in the team, great to have him performing. Mayank Agarwal is an exciting talent," Duminy said after Delhi chased down the target of 166 on the back of half centuries from Agarwal and Yuvraj here.
"I am pleased with the performance of the players. We have not won a lot of games, this win will give us confidence. I back the spinners to do the job. It was not a difficult call for us," he added.
Agarwal, adjudged man of the match for his 48-ball 68, said, "I am extremely happy and I want to thank my team.
"The plan was to keep wickets in hand and see off the new ball. After last year, it is good to be part of a winning side," he said.
Kings XI captain George Bailey said he thought the total of 165 was defendable though his batsmen could have scored more.
"A lot of guys got 20s and 30s and did not convert. Every time we get a momentum, we lose a wicket. But I thought we got enough. We dropped a few chances. At the moment it is not happening for us," he said.
"The surface was alright. Davey (David Miller) has shown himself versatile enough not to do that. We will have to play according to the situation."