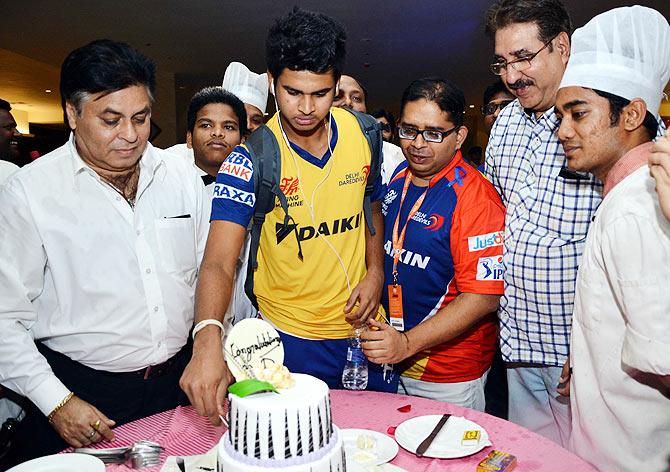 Delhi Daredevils' Shreyas Iyer cuts a cake as the team celebrates victory over Chennai Super Kings with hotel staff. Photograph: Delhi Daredevils
Delhi Daredevils tasted rare success in their Indian Premier League campaign when they defeated Chennai Super Kings on Tuesday.
The six-wicket victory was their first over the two-time champions after seven consecutive defeats.
It snapped their four-match losing streak in the ongoing eighth season of the cash-rich Twenty20 league and earned them their fifth victory in 13 matches.
However, it did not have much significance, as they stayed put at seventh on the eight-team league table, with 10 points and a match to play.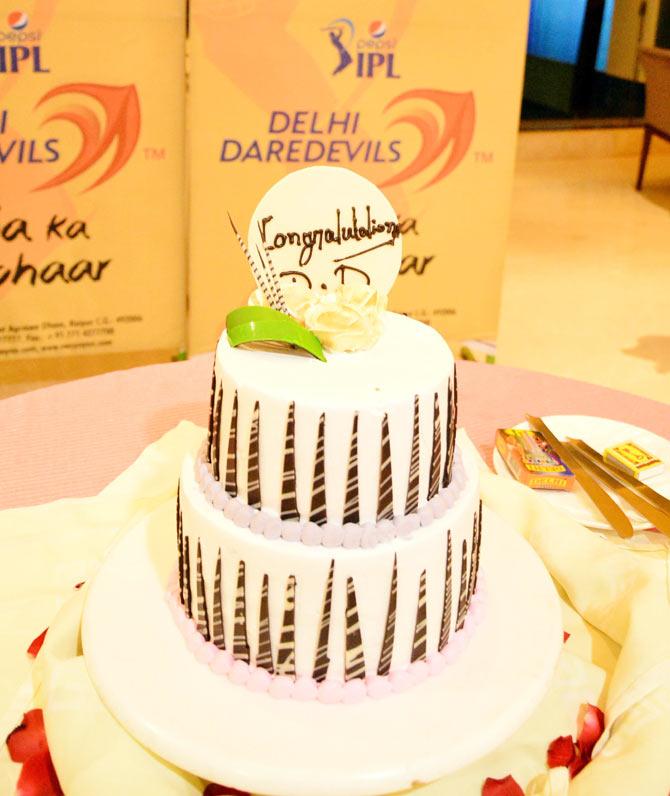 The cake presented to the team by Hotel Raipur VW Canyon. Photograph: Delhi Daredevils
Nevertheless, the surprise victory called for celebrations, and the party began in right earnest once the players reached the team hotel.
A massive congratulatory cake, arranged for by the hotel staff, welcomed the players.
- Also see: Caught & Told: IPL stunners to savour
Thanks to an unbeaten 70 by opener Shreyas Iyer, the Daredevils chased down a modest target of 120, winning with 20 balls to spare.
The 20-year-old, who played for India in the 2014 Under-19 World Cup, scored his runs off 49 balls. They included 10 boundaries and a six.
It was only fitting that he was given the honour of cutting the cake.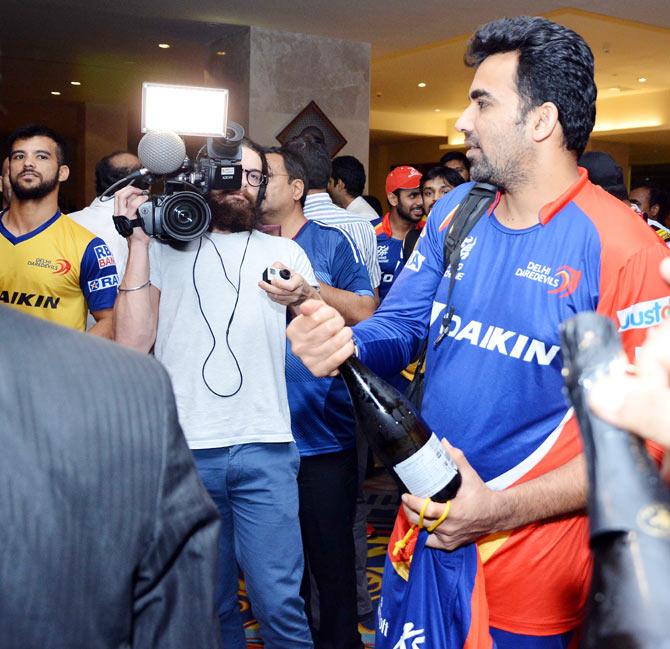 Delhi Daredevils' Zaheer Khan, one of the catalysts of the victory, prepares to pop the bubbly. Photograph: Delhi Daredevils
Shreyas came up with a beautiful knock after Zaheer Khan led Delhi Daredevils' brilliant bowling show. The veteran pacer finished with figures of 4-1-9-2 and was deservedly named man of the match.
Yuvraj Singh also played a hand in the victory, scoring 32, his 28-ball knock inclusive of four hits to the fence and one over it. He and Shreyas added 69 runs, off just 55 balls, for the third wicket.