Snapped up for Rs 1.7 crore, Gurinder Sandhu is highly rated by Ricky Ponting.
Manu Shankar/Rediff.com reports.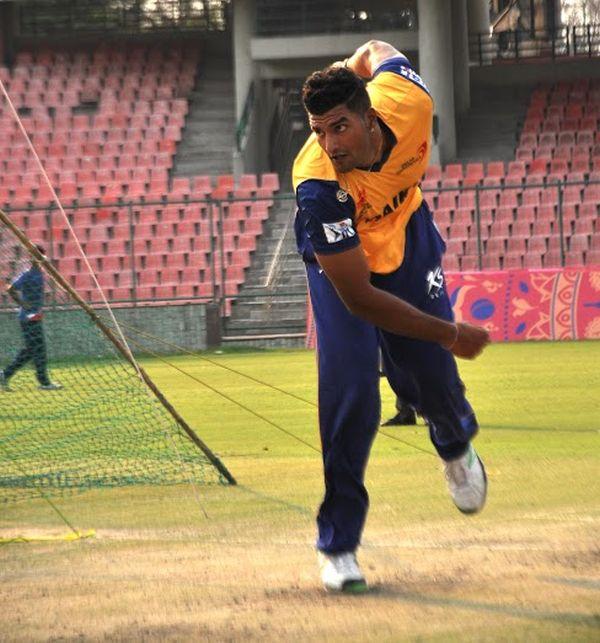 Image: Aussie fast bowler Gurinder Sandhu during a practice session at the Feroz Shah Kotla. Photograph: Kind Courtesy, the Delhi Daredevils
Back to the game after the heartbreaking semi-final loss to New Zealand in the World Cup, South African wicketkeeper-batsman Quinton de Kock is set for his second stint in the Indian Premier League.
"It took me a day or two to get over it," de Kock says of the nerve-wracking semi-final, "but we can't dwell on the past; it's time to move on."
De Kock had a disappointing outing for the Delhi Daredevils in IPL 7, scoring 153 runs from seven outings, with a highest of 48.
This from a batsman who scored three consecutive ODI centuries against India earlier that season.
"Last year we didn't do well. This year we have nothing to lose," says the 22 year old. "We will go out and do our best."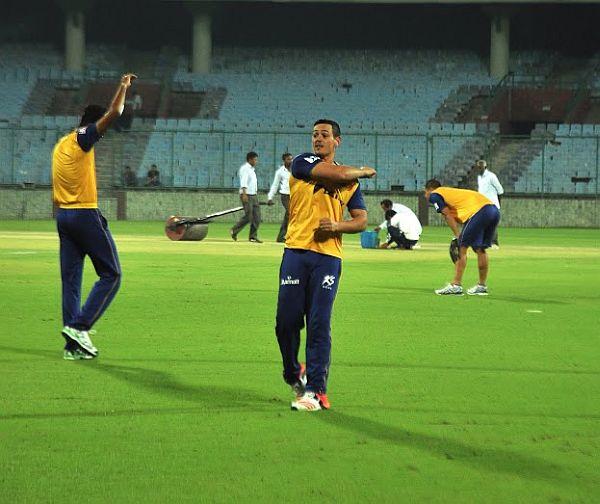 Image: Quinton de Kock during a practice session at the Feroz Shah Kotla. Photograph: Kind Courtesy, Delhi Daredevils
The Delhi Daredevils also have J P Duminy, Angelo Mathews, Zaheer Khan and Manoj Tiwary this season.
"It's always nice to get a good start," adds de Kock, "but we must not forget it is important how we finish. We would like to finish on a high."
De Kock feels the T20 format gives him the liberty to play freely.
"It's not that hard to adjust. 50 overs is much more difficult. In the 50-over format you need patience. T20 is a nice little change for us; more for batsmen than bowlers," he says.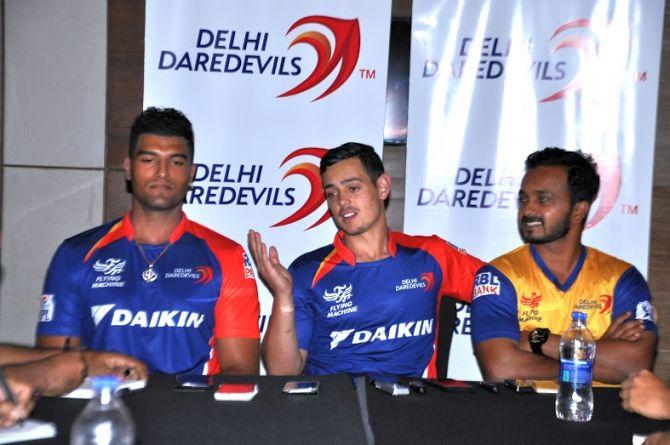 Image: Delhi Daredevils stars Gurinder Sandhu, Quinton de Kock and Kedar Jadhav. Photograph: Kind Courtesy, Delhi Daredevils
Besides de Kock, the Daredevils will also count on Australian fast bowler Gurinder Sandhu, who is making his debut in the T20 extravaganza.
Sandhu, who is highly rated by former Aussie skipper Ricky Ponting, was snapped by the Daredevils for Rs 1.7 crore (Rs 17 million) at the Players Auction in February.
"I'm here to learn from the other guys, learn about the conditions," says Sandhu.
Asked if he had spoken with Aussies who have played the IPL, Sandhu says Mosies Henriques, Mitchell Starc and Steven Smith were "happy to share their views."
"I also spoke to our bowling coach back home in Sydney, Geoff Lawson, who managed the Kochi Tuskers. I talked to him about the conditions and what I should be doing. I think I'm prepared, but you never know."