Kieron Pollard of Mumbai Indians and Royal Challengers Bangalore's Mitchell Starc escaped with fines for the ugly spat during the Indian Premier League match between the two teams at the Wankhede stadium, in Mumbai, on Tuesday.

Pollard was penalised 75 per cent of his match fee for throwing his bat at Starc and the Australian fast bowler 50 per cent of his, for "conduct contrary to the spirit of the game".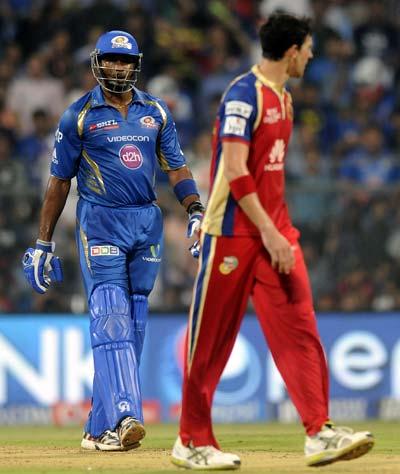 "Kieron Pollard of Mumbai Indians and Mitchell Starc of Royal Challengers Bangalore were both fined after an incident in the first innings," read a statement from the IPL organisers on Wednesday.

The unpleasant incident occurred in the 17th over of Mumbai Indians' innings when Starc continued with his delivery stride despite Pollard pulling out of his batting stance.

The Aussie fired the ball at the West Indian, prompting the batsman to advance menacingly and fling his willow at the bowler. Luckily, it slipped out of the Trinidadian's hand and dropped well away from Starc.
A fuming Pollard had a word with the umpire, complaining about the bowler's conduct.
Off the previous delivery, after bowling a bouncer that sailed over Pollard's head, Starc mouthed something which the big-built West Indian simply brushed away by waving his hand.

As the Pollard's bat lay on the turf, the two on-field umpires intervened and spoke with the agitated players.
Chris Gayle, playing for Royal Challengers Bangalore, also intervened and tried to calm down his West Indian team mate.

Fines were also handed to the two team captains -- Rohit Sharma and Virat Kohli -- for maintaining a slow-over rate.

Mumbai Indians skipper Rohit was handed a Rs 24 lakh penalty for his second over-rate offence, while first-timer Kohli was fined Rs 12 lakh.

Also, "each of the other 10 members of the Mumbai Indians team was fined the lesser of Rs 6 lakh or 25 per cent of his match fee."

Royal Challengers Bangalore fast bowler Varun Aaron was reprimanded for breach of "IPL Clothing Regulations".
Image: Kieron Pollard (left) walks towards Mitchell Starc after the incident.
Photograph: BCCI