'I don't know what to say. It is really a dream come true. I was confident of being picked for my base price of Rs 10 lakh but never thought of the crores. I just hope I get to play in the eleven'
'It all started from KPL where I played for the Bijapur Bulls'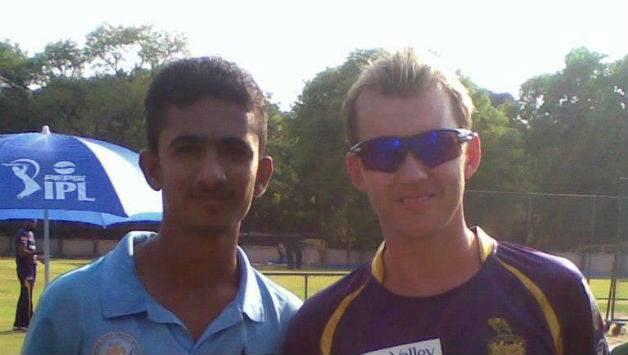 KC Cariappa with Kolkata Knight Riders' Bret Lee. Photograph: K C Cariappa/Facebook
He played 'tennis ball cricket for money' two seasons ago and is yet to compete at the senior level, but this 20-year-old fetched a price tag of Rs 2.4 crore at Indian cricket's most glitzy market. Meet K C Cariappa, the protagonist of a remarkable story that this year's Indian Premier League players' auction has thrown up.
- IPL 8 Auction: The players, their price
- IPL VIII auction: Yuvraj fetches record price, Delhi break bank
- Yuvraj not retained to exhaust other teams' purse: RCB
- Yograj says Dhoni did not want Yuvraj in WC squad; son differs
Cariappa, 'mystery spinner' he likes to call himself, was confident of being picked at the auction but not for the astronomical amount he eventually attracted from Kolkata Knight Riders.
While players were being traded at a plush hotel in Bangalore, local boy Cariappa and his family were glued to the television in their small rented accommodation in Bagalagunte, in Bengaluru.
"I don't know what to say. It is really a dream come true. I was confident of being picked for my base price of Rs 10 lakh but never thought of the crores. I just hope I get to play in the eleven," a soft-spoken Cariappa said.
Such is the world of the IPL that Cariappa fetched a bigger price than the likes of Kevin Pietersen (Rs 2 crore), Michael Hussey (Rs 1.5 crore) and current England captain Eoin Morgan (Rs 1.5 crore).
"It is unreal to be honest," said Cariappa, who will rub shoulders with Gautam Gambhir, Morne Morkel and his inspiration -- Sunil Narine.
Cariappa's confidence of getting a team stemmed from his stint with KKR during the Champions League T20 last September. He says the 15 days at a camp in Hyderabad did wonders for him.
'Akram told me that I was bowling well and I needed to work on my fitness'
KC Cariappa. Photograph: KC Cariappa/Facebook
"KKR video analyst Srikanth took me to the camp and I was suddenly bowling in the nets to someone like a Gambhir. Wasim Akram (KKR bowling consultant) was there and it was just overwhelming. He (Akram) told me that I was bowling well and I needed to work on my fitness."
Though Cariappa has played under-19 cricket for Karnataka, he only got attention when he took 11 wickets, including Manish Pandey's, in the Karnataka Premier T20 League (KPL).
"It all started from KPL where I played for the Bijapur Bulls. That is how the KKR door opened," he said.
Cariappa calls the leg-spin his stock ball and likes to mix it up with an odd off-spinner and the straighter one.
Cariappa says he started playing with the leather ball at 17 and was an fast-bowling all-rounder before taking up spin.
So, do his future plans change post the auction?
"I don't care about the money for now. I hope I get to play for Karnataka soon. My parents have sacrificed a lot for me. With the money I get, I want to buy a house for them," he said before rushing to meet visitors pouring into his home with congratulatory messages.