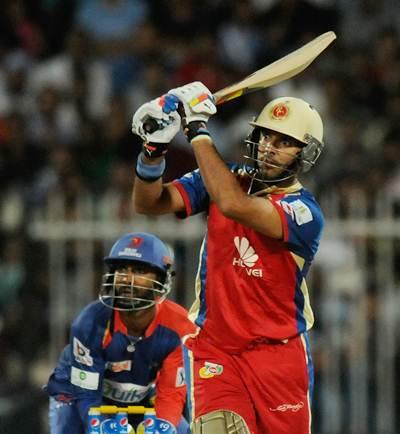 Royal Challengers Bangalore director P A Murali revealed the strategy behind not retaining Yuvraj Singh, saying it was to ensure that the purse of other teams are exhausted and help them get better cricketers for IPL 8.
"The basic strategy to leave Yuvraj was to ensure that the purse of other teams are also defeated so that you are able to get better players while going forward," he told reporters in Bengaluru during the IPL-8 auction.
However, Murali said, "We would have liked to have him back in the team, but, unfortunately, it was not to be."
Yuvraj became the Indian Premier League's costliest buy ever, fetching a whopping Rs 16 crore from Delhi Daredevils.
Preity Zinta, co-owner of Kings XI Punjab, also said she would have liked to have Yuvraj in her side.
"When we started he was with us. It is just not me, but the team is very fond of him. Now he is such a big player, it is very difficult to buy him. So we tried - and the price he went for was amazing and we will always want him," she sai, adding that the team management wanted Murali Vijay.
Replying to a query, RCB director Murali said since the captain and coach were not around, they had to call Virat Kohli and Ray Jennings to keep them informed about what they are doing.
"We did not have the coach and the captain with us, so it is important both the captain and the coach should be aligned with what we do," he added.
Chennai Super Kings Coach Stephen Fleming expressed happiness to get back Mike Hussey in the side as he would boost the batting up the order.
"It is good. He is obviously covered for our batting. He was a key component of our side for so long. I don't think he is done yet. He has some energy left in his legs, and we are happy to have him back in the side," he added.
Image: Yuvraj Singh in Royal Challengers Bangalore colours
Photograph: BCCI