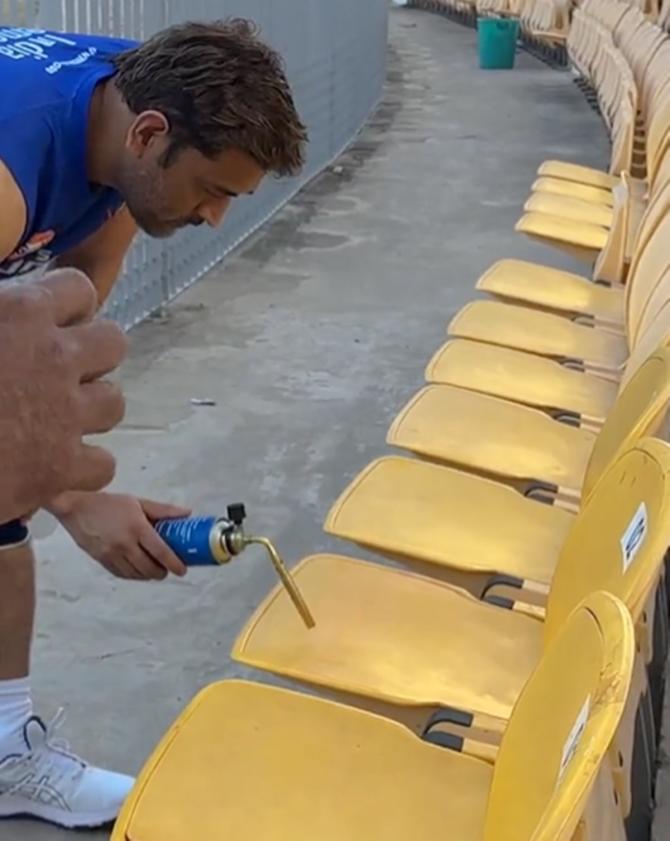 Chennai Super Kings Captain Mahendra Singh Dhoni makes the simple task of painting seats look satisfying.
Dhoni took some time away from the nets to help the ground staff and was spotted refurbishing the seats at the Chepauk stadium in Chennai ahead of the Indian Premier League 2023.
In a video, shared by CSK on Twitter, Dhoni was seen using a portable blow torch to refurbish the seats in the stand in the franchise's traditional yellow and blue shades.
Following his first successful attempt, Dhoni was heard enthusiastically saying, 'It works. It's definitely looking Yellove.'
Dhoni continued giving a new look to some other seats. While restoring a blue one, Dhoni acknowledged, 'Darker colour is even easier.'
'Definitely Looking Yellove Anbuden Awaiting for April 3,' CSK posted in the caption referring to the team's first home match.
Fans of the legendary cricketer were in awe of his down-to-earth persona, referring to his priceless smile while doing the painting job.
They loved Dhoni's work and some expressed that tickets for those seats should be sky high and fans may even try to take them home!