Pune Warriors captain Sourav Ganguly has been handed an official warning and reprimand for breaching Clothing Regulations of the IPL Code of Conduct during his team's match against Kings XI Punjab in Pune on Sunday.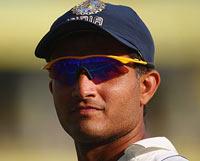 Ganguly pleaded guilty to a Level 1 offence (Article 2.1.1) of a breach of the Clothing Regulations, an IPL release said.
For Level 1 breaches of the IPL Code of Conduct, the Match Referee's decision is final and binding.
Pune Warriors beat Kings XI Punjab by 22 runs in their second IPL fixture at the brand new Subrata Roy Sahara Stadium.
Photograph: Michael Steele / Getty Images