Delhi Daredevils skipper Virender Sehwag never felt that a target of 176 was impossible to achieve even when three of the top-batsmen were back in the hut within first six overs.
Sehwag whose Herculean 119 off only 56 balls saw Daredevils beat Deccan Chargers by four wickets in an IPL match in Hyderabad on Thursday.
"I was always telling my boys that if a set batsman can bat for 15-16 overs, any target is achievable for players like myself, Sachin Tendulkar, Adam Gilchrist," a visibly happy Sehwag said.
Even when Dale Steyn and Ishant Sharma snared three wickets in their opening spell, Sehwag wasn't really perturbed.
"Steyn and Ishant are both world-class bowlers. I was telling myself that if I can just manage to see off their first spell, I will be in a position to attack their fifth bowler which is the weaklink. Also I knew that I would be able to handle Amit Mishra as I have practised a lot against him at the nets," Sehwag explained.
During his partnership of 61 for the fourth wicket with Travis Birt, Sehwag told his junior partner to give him bulk of the strike. Interstingly, Birt had only scored four in the 61-run partnership.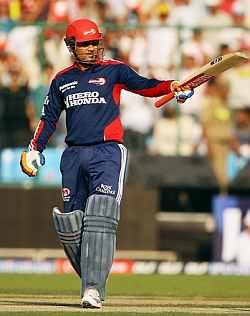 He had earlier scored 94 in a match at the Rajiv Gandhi Stadium in Uppal and was keen to get a century this time.
"I didn't want to miss out on a century this time," said the proud recipient of the Orange Cap as he now leads the pack with 422 runs.
Although his team has to win all the matches from here on in order to qualify for the semi-finals, Sehwag insists that they will play "fearless cricket" as they have "nothing to lose."
He praised the Uppal strip terming it as a sporting track where it had something for both batsmen as well as the bowlers.
His opposite number Kumar Sangakkara rued about the missed chances which cost them the game. Sehwag was dropped twice in the deep by Ankit Sharma and Dwarka Ravi Teja.
"Well, I reckon you have to take catches in order to win matches," was a terse answer from the skipper.
"Viru batted excellently but then 175 was a very good score on this track. Our fielding wasn't up to the mark and we suffered because of that," Sangakkara said.