Rajasthan Cricket Association secretary Sanjay Dixit on Monday took a dig at Mumbai Indians skipper Sachin Tendulkar, who had criticised the Jaipur pitch after their seven-wicket loss to Rajasthan Royals in the Indian Premier League last week.
Dixit vented his ire at the Mumbai Indians camp through Twitter and termed them as 'sore losers', and a side who is known on the Ranji circuit as the most 'graceless'.
"Mumbai is known on the Ranji circuit as the most graceless side. Showing off their pedigree in IPL too," Dixit tweeted.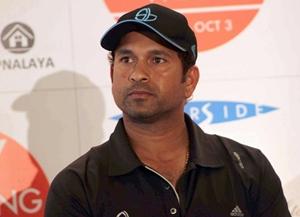 "Venkat Sundram (pitch regulator) came three days after marking of the pitch, and rubbished Mumbai's claims. Sore losers. Did that in Ranji too," he wrote. After the loss to Rajasthan, Mumbai captain Tendulkar had stated that the Jaipur strip was two-paced, a difficult track to bat on and much different from the ones in Mumbai which have pace and bounce. On a slow surface, Mumbai were restricted to 94 for 8 in 20 overs and slumped to their second defeat of the season.
Rajasthan captain Shane Warne was critical of Mumbai Indians' decision to lodge an official complaint about the pitch in Jaipur. He launched a strident attack on Sunday on Tendulkar for criticising the strip which he believed led to pitch regulator Sundram flying to Jaipur the very next day and inspect the wicket-in-question.
On the inspection, Dixit tweeted: "All criticisms of Jaipur pitch unfair. Venkat Sundaram visited Jaipur, found nothing wrong. This is normal for north india 40 plus temperature."
Sundram chose to give a left-handed compliment to Jaipur, stating the pitch produced -- after his inspection -- in Sunday's match against Pune Warriors was a "lovely track".
According to some reports, no formal complaint was lodged and Warne might have over-reacted to Tendulkar's cricketing reply at the post-match presentation ceremony.
When Mumbai was playing Kings XI Punjab at Wankhede Stadium on Monday, Dixit tweeted that he would love to see Mumbai lose. "Would love to see Mumbai beaten in Mumbai. What happens to them after Malinga leaves."
Dixit added, "Malinga is the only one who doesn't need to complain about pitches, unlike some others."
During an interaction with the broadcaster between the match on Monday, Mumbai Indians coach Robin Singh had said that Wankhede strip looks a bit slow. And instantly Dixit tweeted, "MI coach saying that Mumbai wicket is a little slow. Wow! Will MI complain again? But wait, Sachin is getting some runs this time." Dixit again tweeted when Sachin got out after scoring a brilliant half-century off 45 balls, studded with a six and three fours.
"Sachin gets out off a full toss. Can't blame the pitch this time."