'Binny's slot could go to a spinning all-rounder in Nagpur. It could be either Rohit or Mann.'
Ahead of the third Test against South Africa in Nagpur, Captain Kohli indicates that the wicket could prompt changes in India's squad. Harish Kotian/Rediff.com reports from Nagpur.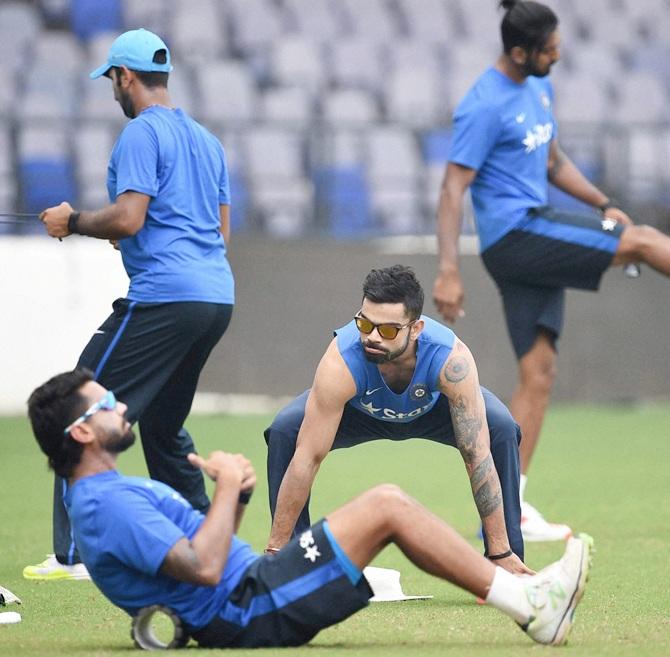 IMAGE: Virat Kohli and his team-mates during training at the Vidarbha Cricket Association ground in Nagpur on Tuesday, November 24. Photograph: Shashank Parade/PTI
A talking point in the ongoing Test series between India and South Africa are the pitches.
Following South Africa's triumph in the ODI and T20 series, the Indian team management asked the curators to prepare turning wickets for the Tests.
Virat Kohli's team made most of this spinning advantage to rout the South Africans by 108 runs in the first Test in Mohali.
The South Africans went into the next Test in Bengaluru with the hangover of that defeat and suffered a batting collapse on Day 1 before rain washed out the last four days of the match.
No surprise then that the talk in Nagpur in the lead-up to the third Test, beginning Wednesday, is on the 22-yard strip, with many predicting it to start turning from Day 1.
Kohli was forthright when asked if his team is comfortable with so much talk being centred around the wicket going into a match.
"The wicket debate is out of my understanding," the skipper said. "I don't know why there is so much cry about the wickets in India. We absolutely have no problems playing on this sort of a wicket. If both teams don't agree on playing on a particular wicket, then it is a wicket that is not suited for a game of cricket. But we are absolutely ready, all 11 of us. No problems."
Kohli made it clear that the team could revert to playing three spinners, bringing back leg-spinner Amit Mishra in Stuart Binny's place.
There was also talk that India could shore up its batting by replacing fast bowler Varun Aaron with batsman Rohit Sharma or making an unlikely choice in Gurkeerat Mann.
"Seeing the nature of the wicket we got to go with a few changes. Obviously, I won't disclose it here," Kohli added.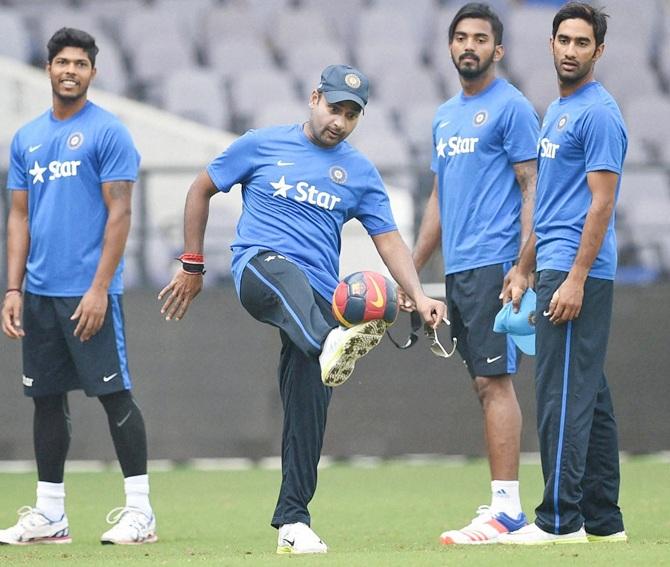 IMAGE: Umesh Yadav, Amit Mishra, K L Rahul and Gurkeerat Singh Mann during the practice session at the VCA ground. Photograph: Shashank Parade/PTI
Binny was included in the team for the second Test to take advantage of the conditions following rain before and during the match. However, his slot could go to a spinning all-rounder in Nagpur. It could be either Rohit or Mann, who has done well with both bat and ball for Punjab in the Ranji Trophy."
"For sub-continental conditions you will have that sort of spinning all-rounder more often than not fitting in for you. That will always be an area that we will experiment on. Other than that we haven't really chopped and changed too much," Kohli said.
"It is just that one slot, which brings balance to the team, must be decided according to the conditions we are playing in," the skipper added.
The last time Kohli played at this venue, he scored 103, but the match ended in a draw.
"I played only one Test match here; it went well for me. I showed lots of patience, something that, at that point in time, was probably out of my character. It was something that I discovered about myself. I hope the wicket doesn't play like that in this game because it ended up being a very boring Test match."
"There was no possibility of a result, nothing was happening in the game and as cricketers it's very difficult to motivate when the wicket plays like that, especially over a span of five days and in that heat."
Hashim Amla, his opposite number, declared that his team is ready to counter India's spin strategy.
"It looks like a good cricket wicket, one that we kind of expect in the subcontinent. They have played three spinners in the first game as well, so it's nothing new," Amla said.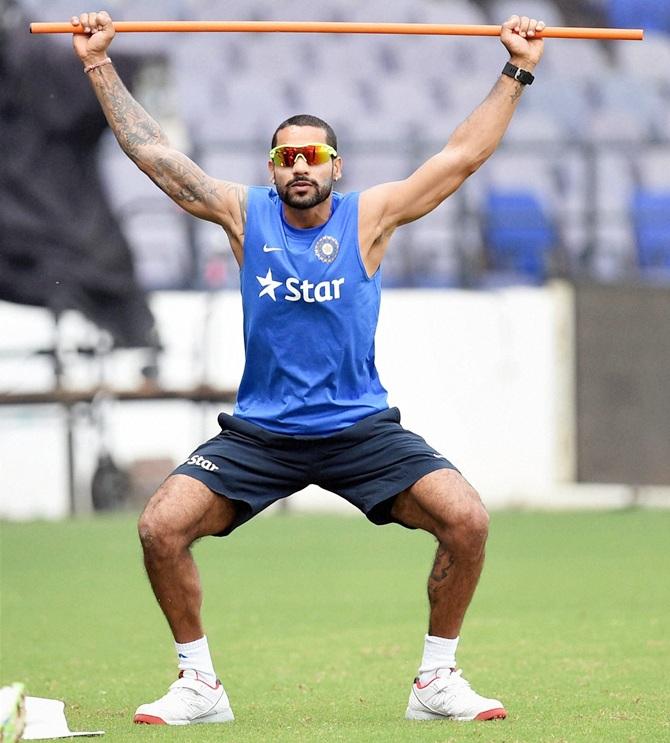 IMAGE: Shikhar Dhawan goes through a drill at the VCA ground. Photograph: Shashank Parade/PTI
Thhe Vidarbha Cricket Association's curator Amar Karlekar confirmed that the wicket would aid spinners.
"The wicket here has always been spin-friendly," Karlekar said, "and in this match too it will help the spinners. The match will last five days."
When Vidarbha played Assam on the centre wicket last month, the spinners had a feast, claiming 16 of the 20 wickets to fall in the game.
Amla revealed that his team may not play three specialist spinners. "We have J P (Duminy) who bowls off-spin quite regularly, so he adds an option as a spinner. We have Dean Elgar who bowls left-arm orthodox. To play three frontline spinners, I am not sure if that is a possibility for us."
"The seamers are going to play; they certainly have a role for us," he added. "But our spinners are growing and they're getting better and better as we saw. Hopefully, it will work for us."