'It is a big step towards changing something in Test cricket.'
The India skipper is all for experiments to boost the appeal of Test cricket. Harish Kotian/Rediff.com listens in.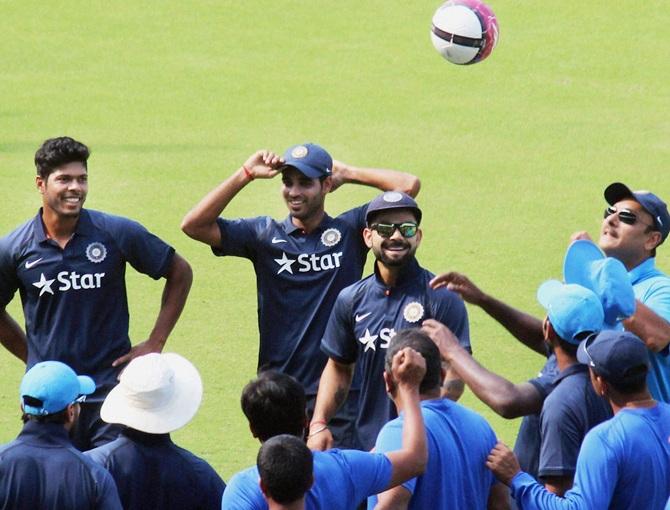 IMAGE: Virat Kohli, centre, Team India Director Ravi Shastri, right, and other players at a practice session in Nagpur. Photograph: PTI
Virat Kohli believes the day-night Test between Australia and New Zealand in Adelaide this week is "a big step towards changing something in Test cricket. I hope it works."
Australia pacers Josh Hazlewood and Mitchell Starc last month expressed concerns about the pink Kookaburra ball. Hazlewood felt the ball is hard to see for fielders square of the wicket late in the day and also believed it behaves more like the white ball of one-day cricket in its movement rather than the red ball used in Tests.


IMAGE: The Pink ball, which will be used for the first time in Test cricket, in Adelaide this week. Photograph: Brendon Thorne/Getty Images
"I have heard players giving feedback on playing with the pink ball," the India skipper told the media in Nagpur. "The only thing they were concerned about was during twilight when it was very hard to pick the ball. During the day it was fine, during night it was okay as well. But when the floodlights are not sort of on and when the sun is going down is when they found it difficult."

Kohli lauded Australia and New Zealand for being part of the novel experiment, which he believes could be better for the game.

"It might be a step that we will all remember a few years down the lane," he said.

Players, he added, must be willing to be part of such experiments which could increase the popularity of Test cricket and draw more people to the stadiums.

"If it is officially put into place, it will be something different, something exciting. As cricketers we should all be willing and accepting of the need to step forward and contribute to the game."
"If this is a step towards improving the excitement and popularity of Test cricket, then I think every team should be in for it."