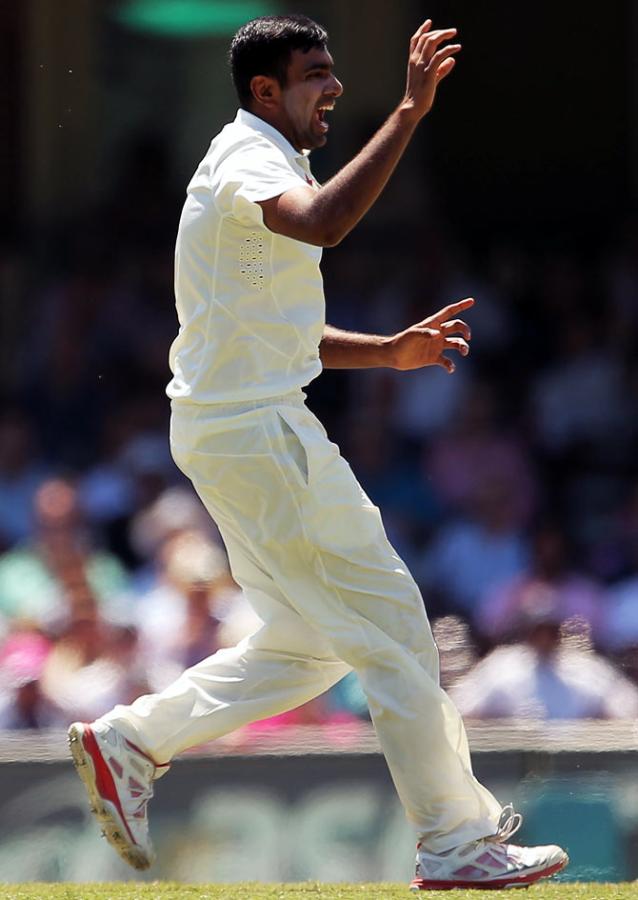 IMAGE: Ravichandran Ashwin celebrates a wicket. Photograph: Brendon Thorne/Getty Images
India spinner R Ashwin said he was surprised with West Indies' decision to bat first on a sticky wicket, even as he returned with a five-wicket haul on the opening day to dismiss the hosts for a paltry 196 in the second cricket Test in Kingston, Jamaica.
After Ashwin's 5-52, opener Lokesh Rahul cracked an unbeaten 75 to guide India to 126/1, within 70 runs of West Indies' first innings score.
"I was pretty surprised that they won the toss and batted first today. Like Virat Kohli mentioned at the toss, there was a bit in it, it was a bit sticky," said Ashwin after the opening day's play.
"Maybe I would've batted as well. But with their strengths, I thought it was a bit surprising. They lost three wickets in front quickly," he added.
The Indian pacers reduced the hosts to 7/3, but Marlon Samuels and Jermain Blackwood strung together a counter-attacking partnership.
Ashwin broke through that partnership before lunch and then proceeded to take his 18th five-wicket haul in 34 Tests.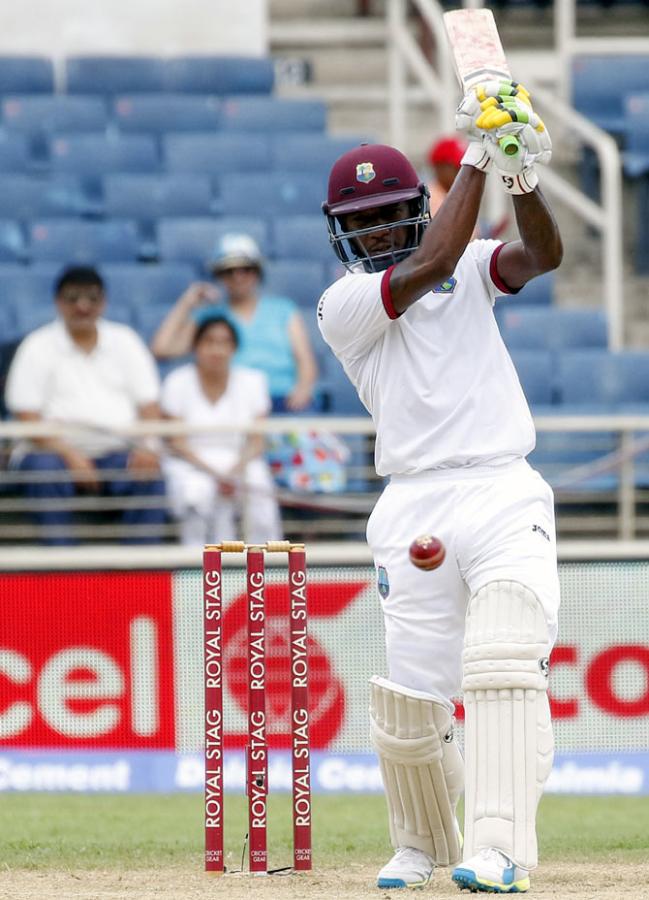 IMAGE: Jermaine Blackwood hits out, on Day 1 of the second Test in Jamaica. Photograph: WICB Media Photo/Athelstan Bellamy
"I was really taken aback by the counter attack that Blackwood did. It sort of put the game in the balance. And we had to break twice and bring the game back. It's clearly a game where the experienced side is seizing the more opportune moments. With a little bit of experience and nailing the right moments, the game could get closer," he said.
"Everybody wants to start playing cricket one day to achieve what no body else could achieve. I am happy to be there, at some stage of my career where I am better than everybody else who has played the game.
"It feels nice, but the only thing that is constant is trying to improve from wherever you are. I think change is very important. This is good, but tomorrow is a different day and you have to keep improving," he added.
Rahul then put on 87 runs with Shikhar Dhawan (27), and was at the crease with Cheteshwar Pujara (18) at stumps, as India took control of this second Test.
Ashwin heaped praise on the Karnataka opener, who was brought into the side in place of injured Murali Vijay.
"He has two Test centuries in two countries, and it doesn't really matter because two Test centuries are huge. And from what I think about Rahul, he's a fine player. We all know that he's a quality cricketer," he said.
IMAGE: KL Rahul in action on Day 1 of the 2nd Test. Photograph: WICB Media Photo/Athelstan Bellamy
"He's made a lot of runs in First Class cricket. And when he has made hundreds for us, it has been crucial knocks. He made one in Sri Lanka, which is very memorable. As a matter of fact, the way he played in the IPL, it's just an extension. Everybody wants Rahul to do well, which is a big tick for him.
"I've nicknamed him batting machine. He keeps batting all the time and it's not a surprise that he's made runs and I'm very happy for him," Ashwin added.
Talking about how the pitch played on day one, Ashwin said, "A little bit of bounce and speed variation, that was important I thought. Most of the dismissals were brought about by difference in speeds rather than much of spin, actually.
"It was initially damp and there was some turn, but after that it flattened out a bit and started going straight. This ball, once it gets older, it becomes easier to bat. There's a lot more time. I think it was more about bounce and speed variation that created the problem.
"I think this wicket is very different to the one in Antigua. This is starting to slow down and it's starting to take a little more spin than it did in the morning. The way Pujara and Rahul batted, I think we just have to mount up more runs tomorrow, and probably look at the third day about what we can deliver with the ball," he signed off.