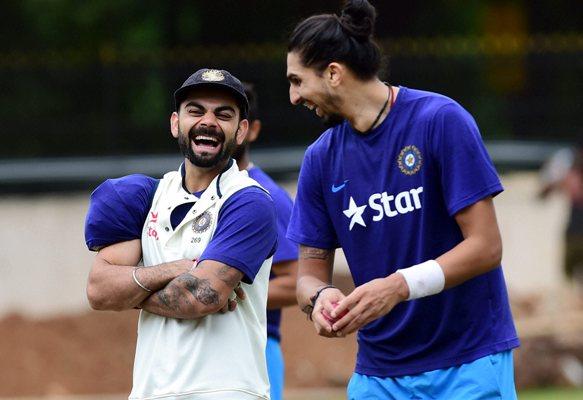 IMAGE: India's Test captain Virat Kohli and Ishant Sharma share a lighter moment during nets. Photograph: PTI.
India's seniormost pacer Ishant Sharma is extremely happy with the performance of the bowling unit and hopes that the team will display "positive and ruthless" intent in the next three Test matches against the West Indies.
India thrashed West Indies by an innings and 92 runs in the first Test at Antigua. Asked about the mantra, Ishant told BCCI.TV: "We have to be ruthless and play positive cricket. The rest we have to assess as to how the game progresses and plan according to situation." The key to success during first Test was bowling short and mixing it with occasional fuller length deliveries.
"West Indies batsmen struggled against short pitched deliveries. We bowled according to a plan. We bowled short and mixed with fuller length deliveries. On a pitch where nothing happens, you need to be consistent. Umesh and Shami bowled well in the first innings and Ash (Ashwin) and Mishy (Mishra) did well in the second innings. I got one wicket in this match but may be in the next it will be my turn to get more wickets," said the lanky pacer.
He also complimented the fitness of the bowlers who were ready to charge in after 90 overs in the first innings after Virat Kohli enforced the follow-on.
"If the captain says that you need to enforce follow-on, then we have to be ready. It is all about fitness. We were not at all tired," said Ishant.