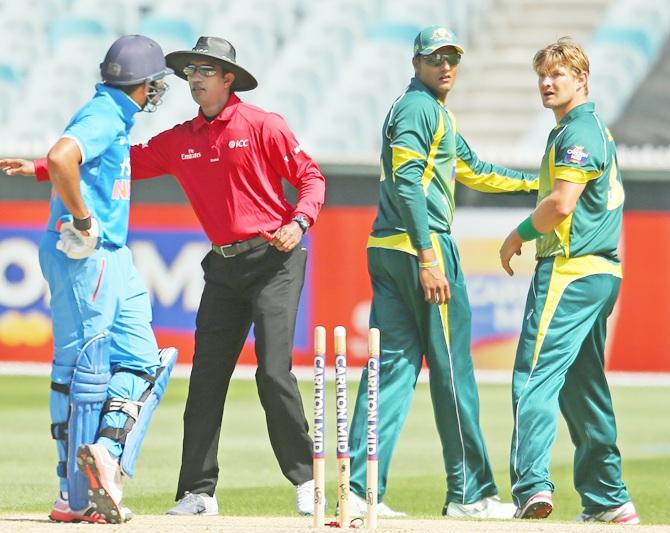 Shane Watson of Australia and Rohit Sharma of India exchange words after an overthrow during the One Day International match between Australia and India at the Melbourne Cricket Ground. Photograph: Scott Barbour/Getty Images
Australian opener David Warner has been fined by the International Cricket Council (ICC) after an on-field dispute with Indian batsman Rohit Sharma during Sunday's one-day international in Melbourne.
We were in some bother as India are a good side: Starc
Rohit knows how to build an innings after good start: Dhoni
PHOTOS: Starc sends India crashing to defeat at MCG
Australia won a thrilling match by four wickets but the result was marred by another ugly spat between the teams.
Warner told reporters on Monday he had been fined half his match fee for breaching the sport's code of conduct for arguing with Sharma.
The incident was triggered when India took a single off an overthrow. Warner thought the ball had deflected off Sharma and the Indians should not have taken the run, in accordance with cricketing convention.
Sharma disputed Warner's claims and television replays later showed he was right and the Indians were entitled to take the run.
Warner later admitted he was wrong about the call but defended his actions and telling Sharma to 'speak English'.
"When I went over to say something to him, he sort of said something in their language and I said; 'speak English' because, if you're going to say something, understand that theoretically I cannot speak Hindi," Warner told Sky Sports Radio on Monday.
'I can't repeat what he said'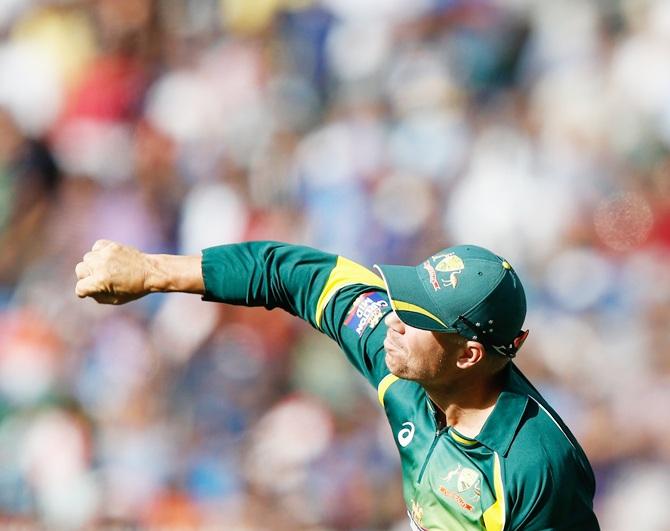 David Warner of Australia throws the ball during the One Day International match between Australia and India at Melbourne Cricket Ground. Photograph: Darrian Traynor/Getty Images
"I did the polite thing and asked him to speak English, therefore he did and I can't repeat what he said."
Australia and India are bitter rivals on the cricket field and their matches have often been tarnished by altercations.
During their recent Test series, four players were fined for bad behaviour.
"I was in the wrong ... I shouldn't have engaged him," Warner said. "(But) If people get on the wrong side of me, I'm not going to back down.
"We're always there to play hard aggressive cricket, but you know what comes with that -- sometimes you are going to get fined."
'It was an argument between two grown men'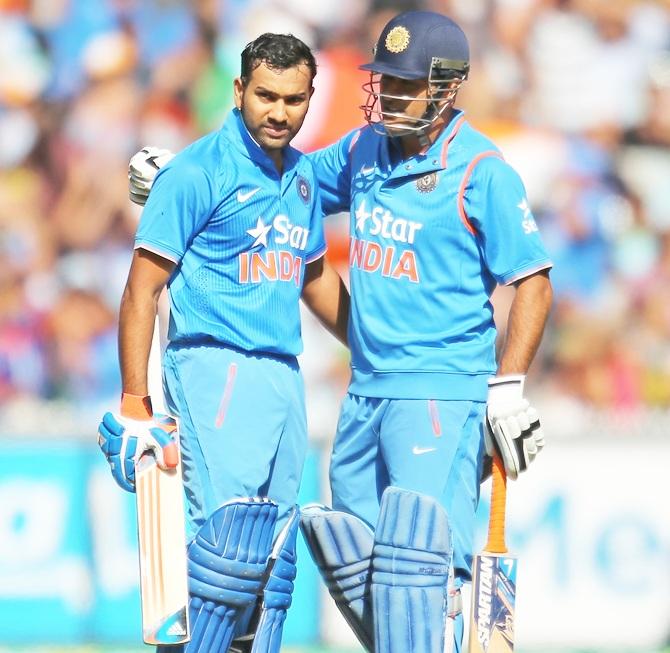 Rohit Sharma of India celebrates as he reaches his century with Mahendra Singh Dhoni. Photograph: Scott Barbour/Getty Images
The ICC has pledged to crack down on player misconduct with the sport's showcase World Cup in Australia and New Zealand starting next month.
India are the defending champions while Australia are chasing a fifth title and both teams are currently warming up for the tournament in a three-team series also involving England.
India captain Mahendra Singh Dhoni played down the latest incident, saying his team paid no attention to Warner's outburst.
"He (Sharma) didn't react inside the dressing room so I think he was fine. I didn't even bother to ask what really happened," Dhoni said.
"It was an argument between two grown men. I hope it was sorted out in the middle."