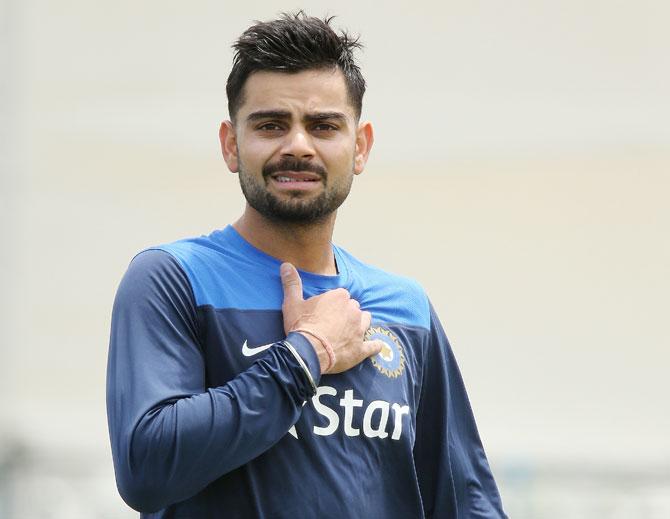 Virat Kohli looks on during a training session. Photograph: Morne de Klerk/Getty Images
The series is out of bounds but Indian cricket is all set to enter a new era under the feisty Virat Kohli, whose leadership would be put through a trial by fire when the visitors seek redemption in the fourth and final Test against Australia starting in Sydney on Tuesday.
Down 0-2 in the series, India have already lost the Border-Gavaskar Trophy after the third Test in Melbourne ended in a draw. Besides, India were dealt quite a shock when skipper Mahendra Singh Dhoni chose to quit Test cricket altogether.
This led to Kohli's elevation as captain and it would be interesting to see how the outspoken and flamboyant batsman, who has scored three hundreds in the series so far, handles the pressure of leading the side and salvage some pride in the series.
As such this is India's sixth consecutive Test series loss playing overseas, a run that stretches back to the England tour in 2011.
It is only the second time in their long history that India have suffered such embarrassment, the first stretching from their debut Test in England in 1932 to their maiden tour of West Indies in 1955. However, when the first ball is bowled in Sydney, future and not history will be on the visitors' mind.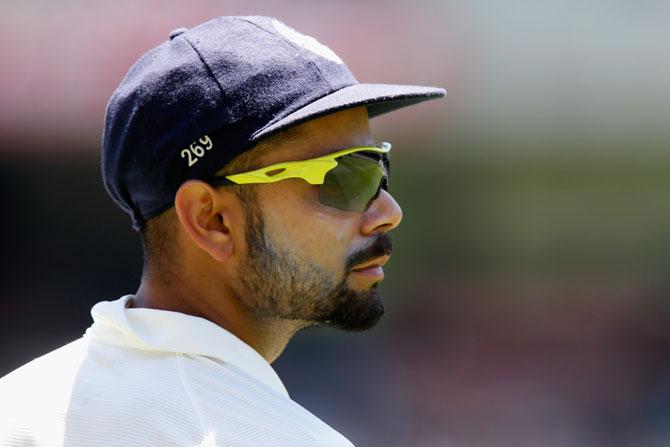 Virat Kohli of India in actionduring the third Test in Melbourne. Photograph: Darrian Traynor/Getty Images
It has been almost a month since Kohli did the job so ably at the Adelaide Oval, nearly carrying the team to victory on the back of his two hundreds in that match.
Given the thankless nature of this job, he will perhaps soon realise that his bat might not always be the answer to all his problems.
For there is a big task facing Kohli as he steps on to the plate now as India's new Test skipper, now in a permanent role.
Dhoni's run as captain in overseas Test cricket has been marred by his team's inability to take 20 wickets. It is the singular reason for this recent poor record and has evolved in this calendar year as India's inability to grab their chances and latch on to moments that could win them a Test match.
Since December 2013, they have let opportunities go in Johannesburg, Auckland, Wellington, Adelaide and Brisbane. If those two draws and three losses had been converted to victories instead, Dhoni's goodbye to Test cricket could have been a lot different.
Virat Kohli of India talks to his teammates. Photograph: Morne de Klerk/Getty Images
Kohli's first order of business will be to get his bowling sorted and pick an attack that can take 20 wickets.
There are two sides to it however. On the plus side, this Sydney Test is a stand-alone five-day game for some time. India's next assignment is a tour to Bangladesh after the IPL season. As such, the new captain needs to figure out his bowling combination for this Test and can mull over any long-term possibilities a little later.
The negative side is that there is a tri-series and an ODI World Cup to be played over the 10 weeks after this Sydney Test, which in all effect is a dead-rubber.
Kohli needs to consider which of his bowlers need to be rested, and who should make the cut. A five-bowler theory has been ruled out with Wriddhiman Saha coming in for Dhoni.
The management will not want to burden him with high batting expectations in his first match as first-choice keeper.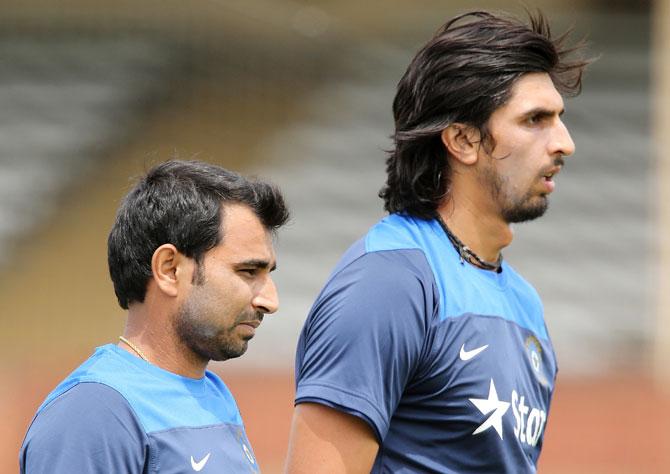 India's Mohammed Shami and Ishant Sharma during a training session. Photograph: Morne de Klerk/Getty Images
Varun Aaron is back after this grandfather's funeral while Bhuvneshwar Kumar was bowling at full steam in the nets.
Ishant Sharma took a day off, hanging around in the nets, as he has been doing on all pre-match days this past series. Umesh Yadav, Mohammad Shami and Dhawal Kulkarni batted and bowled, as did the three spinners, R Ashwin, Karn Sharma and Akshar Patel. Clearly the new captain wanted all his
options fit and ready to go.
There might be a couple of changes in the batting department however. Rohit Sharma looked busier than he did at Melbourne and giving him company was Suresh Raina. KL Rahul, Murali Vijay, Kohli himself and Ajinkya Rahane batted in tandem.
Shikhar Dhawan batted a while later and only when Rahul didn't look too comfortable against short-bowling from the net bowlers. Cheteshwar Pujara didn't even touch the bat during the whole session and as such could miss the cut when Kohli names the playing eleven.
Shikhar Dhawan of India during a training session. Photograph: Morne de Klerk/Getty Images
It will be interesting to see whether the team management persists with Dhawan as an opener despite his failures in the series. It also remains to be seen whether they will give another chance to Rahul who flopped in both the innings in his debut match.
In 10 Tests played at this ground, India have only won once, way back in 1978. While this statistic will not sway his thinking, Kohli will want to tick off the wins' column already.
For all the hype over his aggressive leadership, two losses in two matches under his charge will not make for comfortable reading. And he will want to take advantage of the emotional situation the hosts find themselves in, once again.
Despite the absence of Mitchell Johnson, the hosts will want to win at all costs to honour their lost team-mate. Meanwhile, it will be up to India – and their new captain – to deny and indeed upstage them.