- 'Time Indian cricket looked beyond Fletcher'
- 'Their bowling has been pretty inconsistent'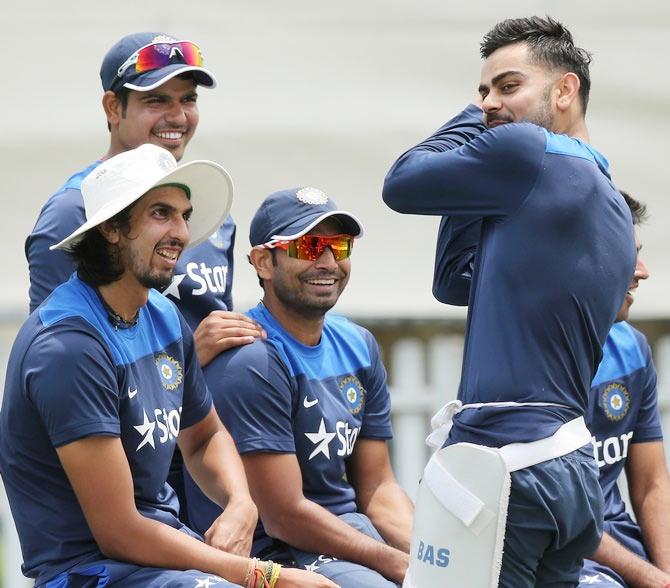 Virat Kohli speaks to his teammates during a training session. Photograph: Morne de Klerk/Getty Images
Mahendra Singh Dhoni's Test retirement might have been sudden but former Australian pacer Geoff Lawson feels it was time Indian cricket got new direction.
"Seeing Virat Kohli's leadership in the first Test at Adelaide, I think he is ready and I quite liked what I saw. First of all, he doesn't talk too much when he is captain which is always good. You have to do that and respect players as well as umpires, and lead by example. He did a good job there and perhaps he is the guy to take India to the next level," Lawson said.
Having already conceded the Border-Gavaskar Trophy to Australia with a 0-2 trail after the drawn third Test in Melbourne, many believed that Dhoni should have stayed on for the series finale and Lawson agrees.
"The Sydney Test might have been a good opportunity to get one good last Test in Australia, to win there and prove that his Test captaincy does work. It would have been a nice farewell for him," he said.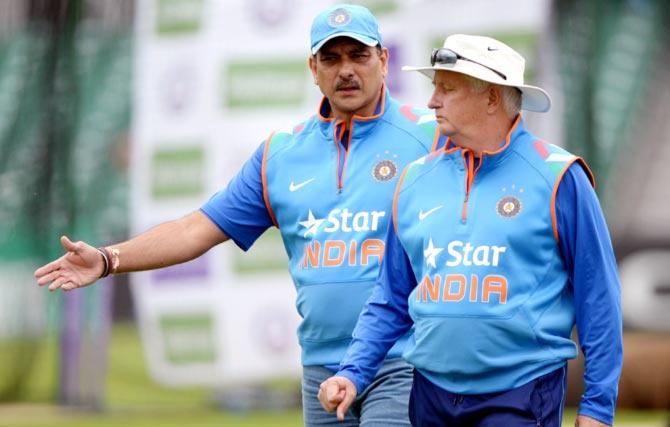 Ravi Shastri with Duncan Fletcher. Photograph: Gareth Copley/Getty Images
Lawson, who has also coached Pakistan for a couple of years, had encouraging words for Duncan Fletcher.
"Duncan Fletcher is a very experienced coach and has had a lot of success over the years, but not with the Indian team. It is time perhaps for the BCCI and Indian cricket to look elsewhere, somewhere who has fresh ideas and a fresh perspective, and can take them forward," he said.
Fletcher has seen India lose their last six consecutive overseas Test series, plus one at home to England in 2012-13 and will certainly have to pull something out of his hat before the Zimbabwean's term expires after the World Cup.
"Indian cricket needs to set itself a goal of doing better in Test cricket overseas. They need to set that goal for themselves, go away and perform in different conditions, and take pride in that success when they achieve it. They need to develop that feeling because you just cannot rely on playing well at home," opined Lawson.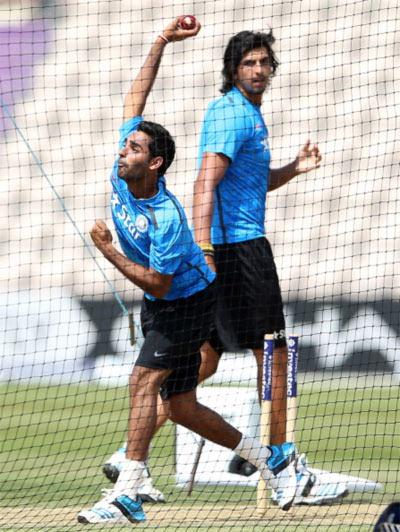 Bhuvneshwar Kumar (left) in the nets as team mate Ishant Kumar looks on during the tour of England in July 2014. Photograph: Scott Heavey/Getty Images
"Not many teams are winning in Australia. You have to get used to the hard wickets and bounce here, and they have done that. India have competed on this tour. They have batted very well and bowled well in spells. They have been more competitive than the established team was on the 2011-12 tour, despite the score-line. India could have won either of the first two Tests," he added.
Indeed, it has been a steep learning curve for a young team, playing only overseas Tests in this calendar year. Perhaps it has begun to show some results, with three out of top-four scorers in the current series being Indian batsmen.
"In the last twelve months, these young batsmen, Murali Vijay, Shikhar Dhawan, Cheteshwar Pujara, Kohli, Ajinkya Rahane, they have played a lot of international cricket in different conditions.
"They have played in such conditions in the younger teams as well. You get better with time touring to different places. But their bowling has been pretty inconsistent," Lawson said.
Being a speedster himself, the 57-year-old Lawson had a word of advice for the Indian medium-pacers.
"They can bowl fast and move the ball, certainly they have the potential. They have been patchy and bowled well for short durations, but that is hurting them. You need to have proper game plans and coaching instructions in place for a young bowling attack like this. You have to set proper fields and inspire confidence in them.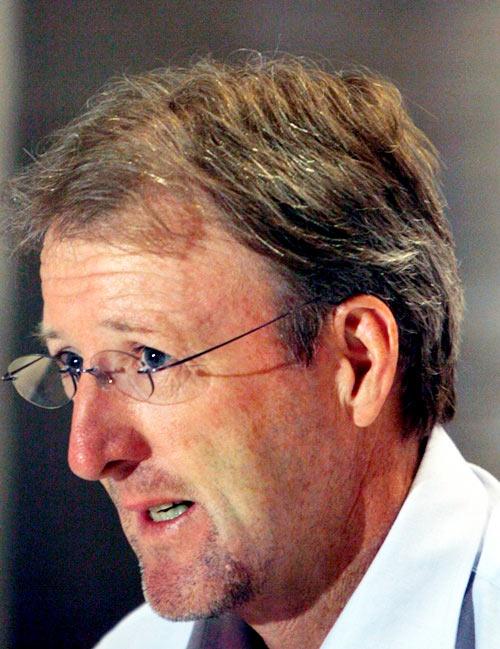 Geoff Lawson. Photograph: Adnan Abidi/Reuters
"Some of the fields set by Dhoni were pretty interesting and I couldn't follow some of the things he was trying to do. As a young bowler, if you are to be successful, you want those things -- good captaincy and coaching -- working out for you properly," added the former fast bowler.
The switch of the support staff from Joe Dawes and Trevor Penney to Sanjay Bangar, B Arun, R Sridhar and Ravi Shastri as Team Director, things haven't changed much for the Indian bowlers. Lawson said that change doesn't happen overnight.
"I don't know the other support staff so cannot comment without being in the dressing room. But Sanjay Bangar is a very knowledgeable cricket guy and he was my assistant in the IPL. It has to be tough on them too, if your bowlers are bowling well for a short time in the middle of bowling poorly," said the former coach of the erstwhile Kochi Tuskers.
When asked to compare his time and learning as Pakistan coach, he replied with a smile, "Well, it certainly helps when someone seven-feet tall shows up on the scene."
"But look, during the cricket season in Pakistan, they have very good seam wickets throughout the country, maybe barring Karachi or Hyderabad. It is unlike India where most of the wickets, apart from a couple in the north, are dry and assist spin.
"Wickets in Pakistan aid and encourage fast bowlers, and they learn this art on their own. So when they tour overseas, they know what to do. You need to allow your fast bowlers to do something and maintain them, and encourage your bowlers mentally," Lawson added.