Australian media has heaped praise on off-spinner Nathan Lyon, whose seven-wicket haul helped his team post a thrilling win against India on the
final day of the first Test in Adelaide.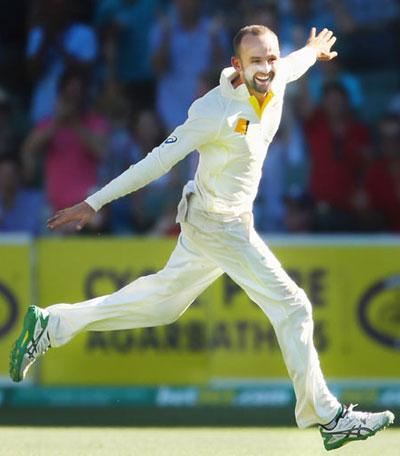 The 27-year-old came up with a match-winning performance on Saturday after Australia set the visitors a gettable 364-run target.
"Nathan Lyon has produced the most emphatic spin bowling performance by an Australian since the retirement of the great Shane Warne," wrote Sydney's Daily Telegraph.
"In a career-defining match for the much-maligned offie, Lyon exorcised his demons from two years ago against South Africa on the same ground in a huge boost for Australia looking ahead to next year's Ashes.
"Since leg-spinning king Warne retired Australia has gone through 13 spin bowlers at Test level. The spotlight on Lyon has been huge but finally he has a performance which he can build the rest of his career on," said the newspaper.
The Australian termed Lyon's stellar showing as "coming of age".
"A lot of ink has been spilled on this subject and there was a lot being ordered for (Sunday's) pages if things had not turned out as they did. Lyon had found his moment and a bit of luck," the paper said.
A section of the media compared Lyon to great South Australian off-spinner George Giffen.
"Lyon's match figures of 12-286 off 70.1 overs were a perfect replica of a Giffen performance," Melbourne's The Age said.
"Graciously, Lyon complimented umpire Erasmus and explained, 'I just had to keep asking the question.' Eventually, he got his answer, and cricket got the Test match it wanted."
The second Test of the four-match series starts on December 17 in Brisbane.
Image: Australia's Nathan Lyon celebrates a wicket
Photograph: Scott Barbour/Getty Images