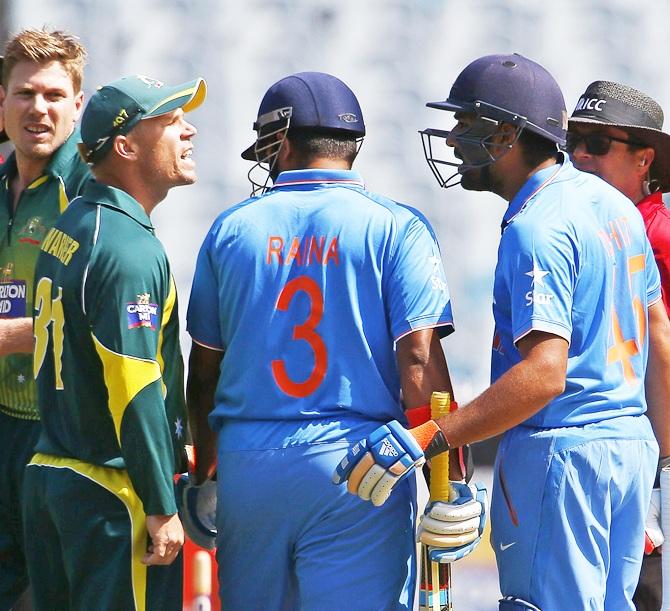 Umpires (in red) and Australia's James Faulkner, second left, watch as Australia's David Warner, third left, argues with India's Rohit Sharma, second right, during their ODI tri-series match at the Melbourne Cricket Ground. Photograph: David Gray/Reuters
Australian cricket coach Darren Lehmann warned his players against 'crossing the line' in on-field aggression but conceded that the side would always 'teeter pretty close' to the edge.
Warner defends 'speak English' comment; fined over row with Rohit
The verbal spat between David Warner and Rohit Sharma during the tri-series cricket match on Sunday, which Australia won by four wickets, once again brought to fore the aggressive side of the home team and Lehmann said he wouldn't want things to go out of hand.
"It's not a great look. The International Cricket Council (ICC) have done something about it. At the end of the day we have to work better at those situations and get better as a group ... Davey said he's been fined 50 per cent, so we'll deal with that and move on," ," Lehmann told Sky Sports Radio.
"It's not an ideal scenario, but we've got to make sure we're playing the cricket we want to play without crossing the line."
'Players should never forget to respect the game'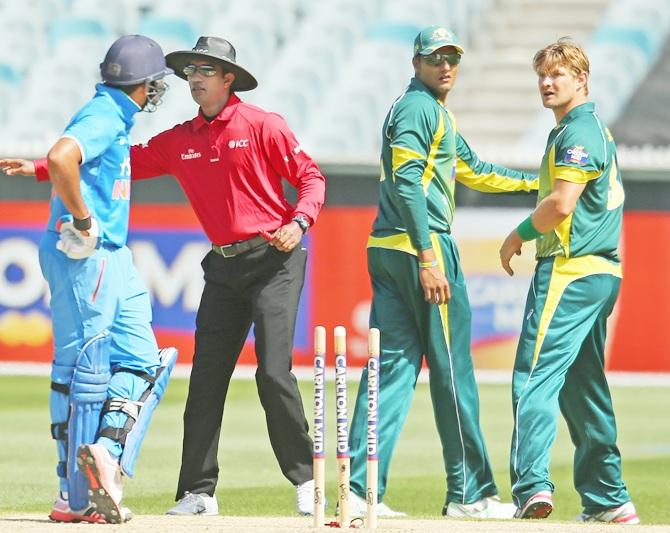 Shane Watson of Australia and Rohit Sharma of India exchange words after an overthrow during the One Day International match between Australia and India at the Melbourne Cricket Ground. Photograph: Scott Barbour/Getty Images
"David's an aggressive character and we support that. It's just making sure he does the right things on the ground, and he knows that more than most," he added.
Lehmann said while unsettling the opposition with words is not a problem, the players should never forget to respect the game.
"We've just got to be mindful of the game of cricket; it's an important entertainment spectacle for people around the world. We've got to make sure we play hard but fair, and don't cross the line," he asserted.
The Australians were also guilty of a slow over-rate, which resulted in a shorter mid-innings break. Lehmann said he has had a word with the team on this issue.
"You've got three and half hours and it took us three hours 56 I think last night. We bowled too many wides and we were too slow in between overs, and we've got to get better at that," Lehmann said.
"I spoke to them quite firmly last night. We don't want that happening. We want to get through our overs and play an up-tempo game and make sure we're entertaining the people who come to watch, in the right time-frame."
Also Read
We were in some bother as India are a good side: Starc
Rohit knows how to build an innings after good start: Dhoni