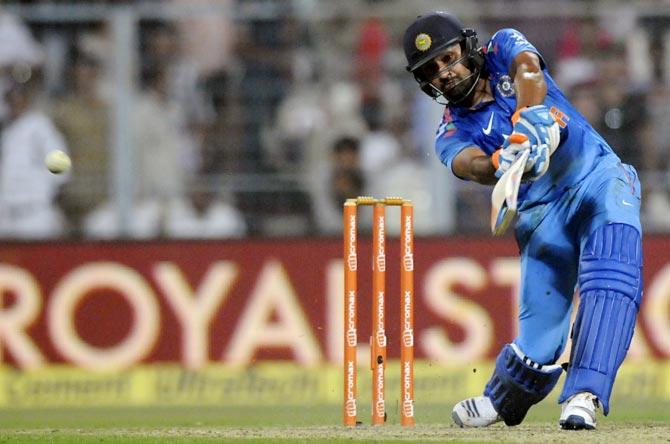 Rohit Sharma hits out during the fourth ODI against Sri Lanka in Kolkata. Photograph: BCCI
The cricketing world heaped rich praise on Rohit Sharma after he smashed a record ODI score of 264 in India's fourth game of the five-match series against Sri Lanka at the Eden Gardens in Kolkata on Thursday.
In registering his second double hundred, he broke Virender Sehwag's record high of 219.
India captain Mahendra Singh Dhoni, who is rested for the series, tweeted: "Very well batted Rohit.thats Rohit for everyone,sheer talent.Enjoy and Witness the class in action."
All-rounder Ravindra Jadeja came up with his own way of describing Rohit's sensational knock.
"#RohitSharma is now 2nd best performer against SriLankans after Lord Ram," he wrote on his Twitter page.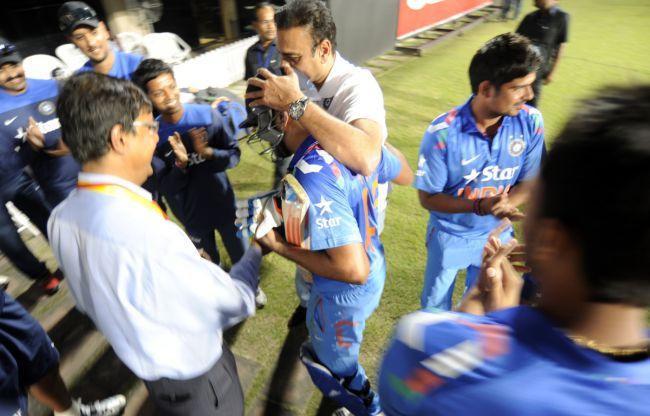 Ravi Shastri, Director of Cricket for the Indian cricket team, congratulates Rohit Sharma at the end of India's innings. Photograph: BCCI
Harbhajan Singh said: "A record which is going to stay !! A delight 2 watch! Well done bro for creating history!"
Former India captain Anil Kumble termed his achievement incredible.
"Next target @ImRo45 a double hundred in IPL, just asking...anything possible! Incredible, still can't believe.
Sanjay Manjrekar felt Rohit's effort was outstanding despite Sri Lanka's ordinary bowling.
"Batting conditions, ordinary bowling attack notwithstanding, it takes some doing getting 264 off 173 balls. Well done Rohit!"
Former England captain Michael Vaughan added: "Can't believe @ImRo45 didn't make a Triple century... #useless."
He went on: "So @ImRo45 has now scored 2 double ODI tons.... I couldn't even get 1 ton.... #Useless.
"The last 50 ODI Matches @ECB_cricket have played,the Team have averaged 259.... @ImRo45 scored 264 on his own... #Justsaying," Vaughan wrote.