India and South Africa kick-off preparations for the ICC World Twenty20 2016 with a three-match series, the first of which will be played in Dharamsala on Friday.
Since their first meeting in 2006, the teams have met eight times. Five of those matches were ICC T20 tournaments and India holds a 6-2 head-to-head winning record.
Ahead of the series, Rajneesh Gupta presents a recap on the battles between the two sides in the game's shortest format over the years.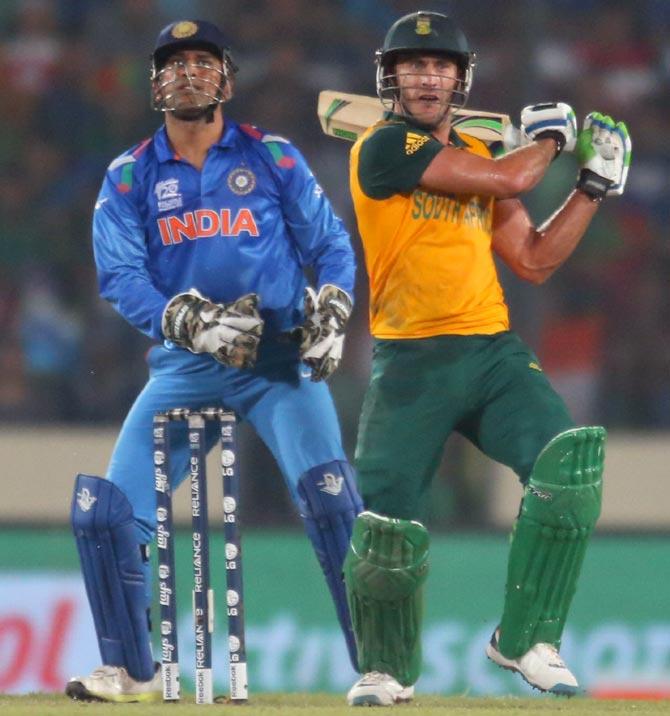 IMAGE: Faf du Plessis hits a boundary as Mahendra Singh Dhoni of India looks on during the ICC World T20 match 2014 in Dhaka. Photograph: Scott Barbour/Getty Images
Johannesburg 2006: India won by six wickets
It was India's first match in the T20 format, whereas South Africa were playing their fourth.
The match was closer than what the result shows.
India, led by Virender Sehwag, were asked to bowl first. The pitch was damp and stroke-making difficult. Moreover, South Africa were under-strength; they mustered a paltry score of 126 runs and lost by nine wickets.
Zaheer Khan's figures of 4-0-15-2 were then the most economical by a bowler in this format.
India lost Tendulkar early, but Sehwag and Dinesh Mongia put the team back on track. After Sehwag was out, Dhoni was dismissed for a duck. However, Mongia and Dinesh Karthik -- playing as a specialist batsman -- set up India's chase with measured aggression. There were some nervous moments towards the end, as India needed nine runs off the last over, but Karthik virtually sealed victory by depositing the first ball of the 20th over from Robin Peterson in to the stands.
Durban 2007: India won by 37 runs
The teams met again in the inaugural World Twenty20 tournament. It was a crucial game for India as they needed to win to move into the semifinals.
South Africa -- the only unbeaten side in the tournament thus far -- simply required to score 126. They appeared in two minds, whether to go for a win or settle for a total of 126 after India had put on 153 runs on the board. In the end, South Africa couldn't achieve any target and were crashed out of the competition.
India, opting to bat first, were 33 for three, but a brilliant half century from 20-year-old Rohit Sharma helped them post a respectable total.
R P Singh and Shantakumaran Sreesanth then ran through the South African batting line-up and Rohit's athleticism in the field resulted in running out the in-form Justin Kemp, leaving the hosts teetering at 31 for 5.
There was no way South Africa could make a come back from that position and even though Mark Boucher and Albie Morkel made a valiant attempt, South Africa lost the game by 37 runs, paving India's way into the last four.
To add insult to injury, a near sell-out crowd, comprising mostly Indians, chanted "chokers".
Nottingham 2009: South Africa won by 12 runs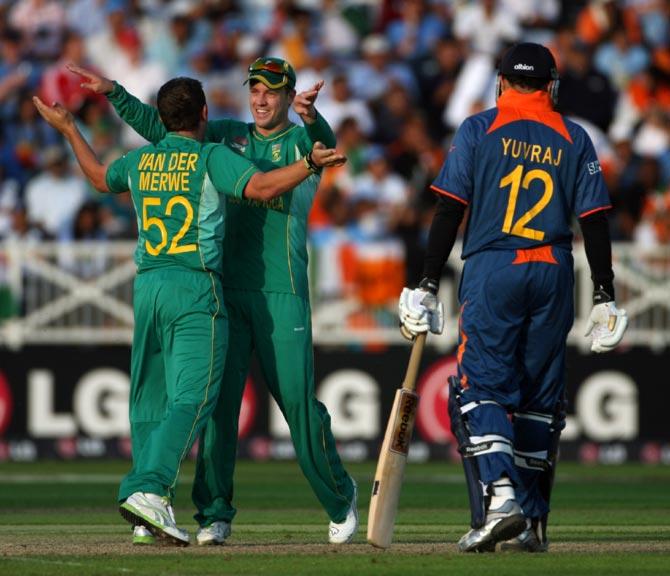 IMAGE: AB de Villiers celebrates with team mate Roelof van der Merwe (left) after taking an Indian wicket. Photograph: Julian Finney/Getty Images
Again a World Twenty20 game. The only interest in the otherwise 'dead' game was in whether India could win heavily enough to knock South Africa off the top of their group.
When they started their run-chase brightly, reaching 47 without loss in six overs, that looked possible. But on a slow pitch, occasionally allowing extravagant turn, India's batsmen - normally so masterful against spin bowling - lost five wickets and scored only 32 runs in nine overs of spin.
When Yuvraj Singh was eventually adjudged caught low down by Mark Boucher off Dale Steyn, the match was decided.
South Africa, after making 47 in the powerplay, managed only 83 more off the last 14 overs. Despite leaving out Pragyan Ojha, India still used five spinners of varying types, and between them they took three for 75 in 14 overs, the first eight of which featured no boundaries.
India, the 2007 champions, exited the competition having beaten only Bangladesh and Ireland.
Gros Islet 2010: India won by 14 runs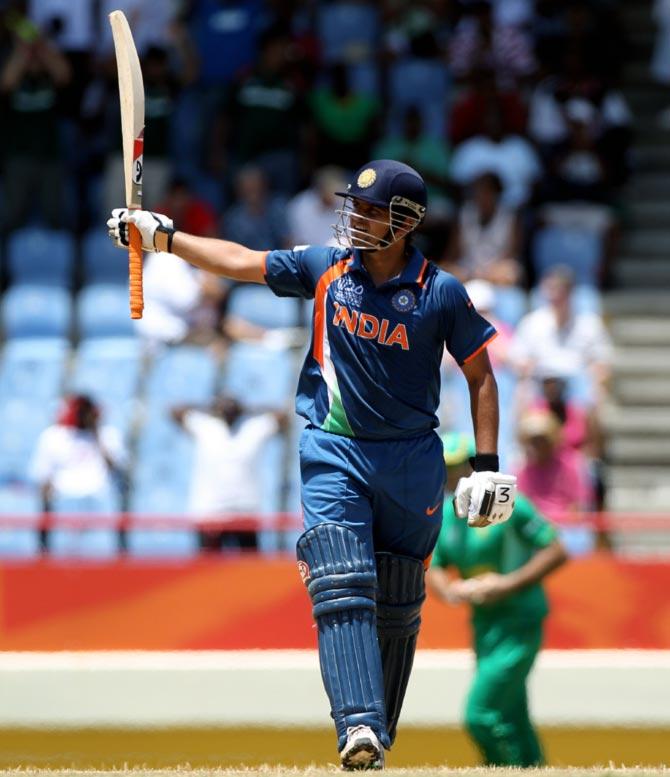 IMAGE: Suresh Raina of India celebrates his century against South Africa during the ICC World T20 2010. Photograph: Julian Herbert/Getty Images
Suresh Raina overcame a jittery period of mis-hits and short-pitched bowling, scoring 82 off the last 38 balls he faced, en route to only the third century in Twenty20 internationals – first by an Indian.
Yuvraj Singh returned to form, Graeme Smith's reluctance to attack with Dale Steyn confounded, and India's 186 was always going to be too much on a difficult pitch and a slow and big outfield.
With two early wickets gone, and both Raina and Yuvraj struggling to connect with the middle of the bat, India were 43 after eight overs. There was no mucking around after that. Although the odd mis-hit remained a feature of the partnership, the sweet shots grew in frequency and India got 143 in the next 12 overs.
It worked for them that the mis-hits kept bouncing in front of deep fielders, and the sweet ones cleared them easily.
South Africa's reply, in the face of a four-spinner Indian attack - without using Yuvraj, was even more confounding.
Jacques Kallis and Smith struggled to get going and hesitated to take risks. By the time the first piece of enterprise came, a slog-swept six from Smith in the 11th over, the required run-rate had reached 13. By the time Kallis reached his fifty, off 45 balls, they needed 15.5 in each of the six overs to come.
Suddenly Kallis exploded, hitting three sixes in the next two overs. It seemed for the second time in 40 overs a batsman was about to put behind him the struggles and play a decisive knock. Yet, there were just too many risks required, and one of them claimed Kallis, leaving the Proteas 59 to get off 21.
The requirement was comfortable enough for India to be able to experiment: Praveen Kumar bowled just one over, for three runs. With two straight wins, India stormed to the second round as the table leaders.
Durban 2011: India won by 21 runs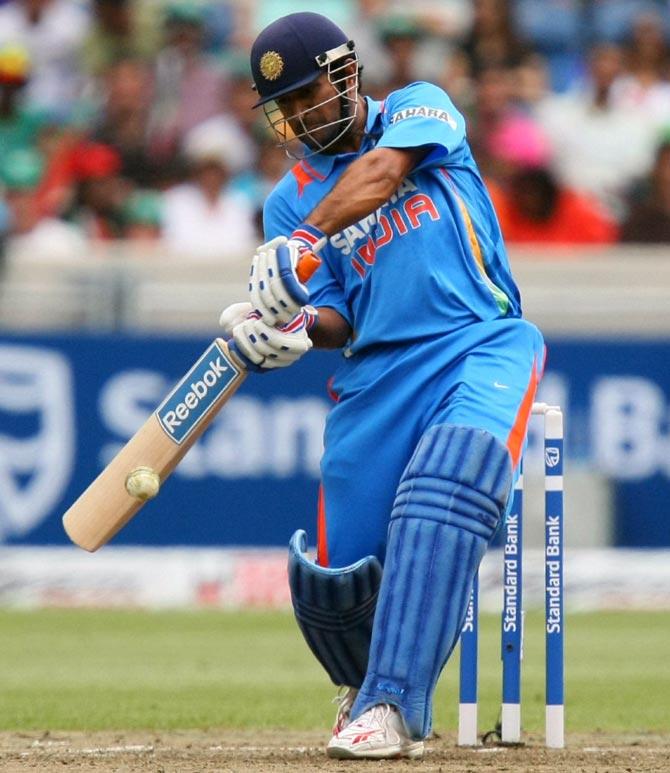 IMAGE: Mahendra Singh Dhoni hits out. Photograph: Anesh Debiky/Gallo Images/Getty Images
This game was played at a new stadium. The organisers certainly didn't lack ambition: they successfully aimed to assemble the largest crowd ever to watch a cricket match on the African continent.
They had three pegs on which to hang their ambitions: a celebration of the arrival of the first indentured-labourer Indians in the country 150 years earlier, the final appearance of the officially retired Makhaya Ntini in a South African shirt… and the really big one, which put most of the 50,000 bums on seats - a post-match concert by Bollywood superstar (and Kolkata Knight Riders owner) Shah Rukh Khan.
Just visiting the architecturally magnificent stadium, built for the 2010 football World Cup and named after a prominent former politician, was an event in itself. The square boundaries were shorter than ICC regulations dictate and the one-off pitch played like the strip of bare rolled mud that it was, but it hardly mattered.
The extravaganza was a tremendous success. Even the match itself, fourth on the priority list, wasn't too bad.
Ntini, unfortunately, showed why he had retired, but it simply didn't matter.
He was cheered all afternoon, if not quite as much as Shah Rukh was later in the evening.
South Africa never really threatened India's total, despite a whirlwind innings from opener Morne van Wyk on the day he had been ignored in the IPL auction.
Afterwards, South Africa's politicians and administrators liked to believe they had proved it was not just India which did "sportainment", and there was talk about making it an annual event.
Johannesburg 2012: South Africa won by 11 runs (D/L)
Before the match Mahendra Singh Dhoni quipped, 'Let's hope it doesn't rain,' as he left the pre-match press conference.
Unfortunately, it did. Jacques Kallis, one of only two - with Lonwabo Tsotsobe - in South Africa's squad to have made the trip from New Zealand, made light work of jet lag to belt 61 from 42 balls, in a match somewhat crassly dedicated to him.
Ingram was even more destructive, forcing Dhoni to persist with part-time spinners for longer than desirable. Gautam Gambhir responded with a quick 49 but, with Robin Uthappa struggling to get Tsotsobe away at the other end, India were 12 runs behind on Duckworth/Lewis when a thunderstorm ended play in the eighth over. That meant South Africa achieved the oddity of winning without claiming a wicket. The whole thing was an oddity, to be frank.
Colombo RPS 2012: India won by one run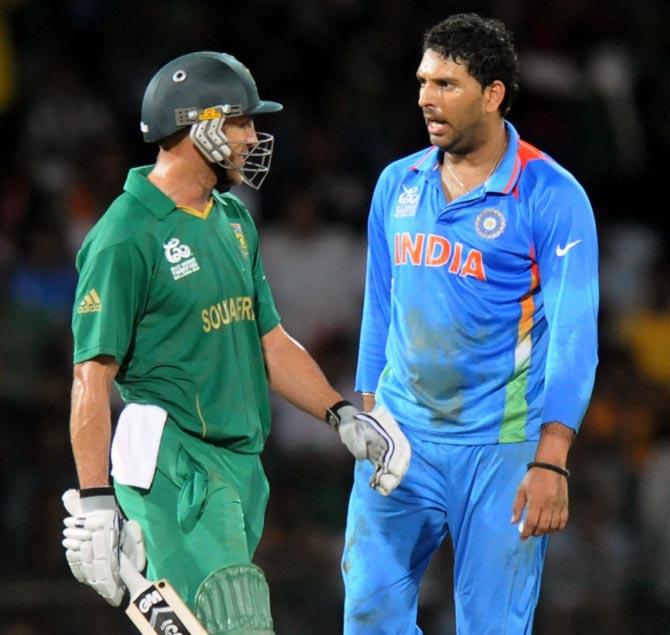 IMAGE: Yuvraj Singh (right) exchanges a few words with Faf Du Plessis. Photograph: Pal Pillai/Getty Images
The next encounter between the teams was again in the World Twenty20 tournament.
South Africa were already out of the semi-final race, but India had a chance to qualify. South Africa, however, ended India's hopes, despite suffering a third straight loss.
After winning the toss, they put India in to bat.
India posted a competitive 152 for six in the stipulated 20 overs. To seal a spot in the semis, India needed to restrict South Africa under 122. They would have pipped past Pakistan in such a scenario on net run-rate. But Faf du Plessis's swashbuckling 65 ensured South Africa would reach the target in the 17th over. There were loud cheers from Pakistan supporters in the stands when this happened.
India, however, scraped to victory by narrowest of margins possible, claiming the last five wickets in 16 balls.
Yuvraj Singh, who also chipped in with two crucial wickets, was named the Man of the Match for his all-round performance.
Mirpur 2014: India won by six wickets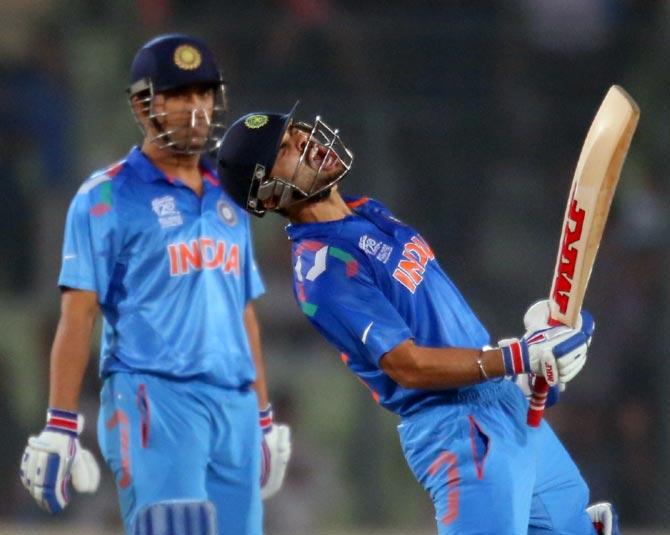 IMAGE: Virat Kohli celebrates after hitting the winning runs against South Africa in the ICC World T20 2014 second semi-final. Photograph: Scott Barbour/Getty Images
The eighth and last encounter between the two teams again came in a World Twenty20 game. This time it was the semi final, setting up another high voltage encounter. Batting first, South Africa posted a competitive score of 172 for the loss of four wickets.
For India, Ravichandran Ashwin was the pick of the bowlers, taking three wickets. His bowling was all the more impressive as the delivery that castled Amla was called as the Twenty20 'Ball of the Century'
In reply, Rohit Sharma and Ajinkya Rahane got India off to a solid start. Rahane made a useful contributio,n scoring 32 as Virat Kohli and Yuvraj Singh took India ahead.
India needed six runs of nine balls. It was Kohli who took India into the final of the World Twenty20 for the second time. He was also named Man of the Match after scoring 72 runs.
[Source : Wisden Cricketers' Almanack & contemporary newspaper reports]