South Africa captain Graeme Smith has lost his valuable Test cap which he wore in every match since his debut against Australia way back in 2002 in Cape Town.
Smith said that the cap, which he lost during his travel from Centurion to Durban, was irreplaceable for him.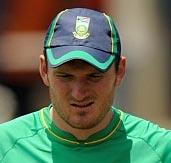 "Realise this is a long shot, but had my Test cap that I've used since my 1st test for proteas stolen on travel up to durbs!#can't be replaced," he wrote on his Twitter page.
"Cap means a lot to me so if you know anything pls give me a shout......thx."
South Africa lead the three-match Test series against India 1-0 after their resounding innings and 25 runs victory in the first match in Durban.
The second Test of the series will begin at the Kingsmead in Durban on Sunday.