South Africa will look to grind the Indian bowlers and bat them out of the first Test in Centurion on Saturday, says opener Alviro Petersen, who hit a classy 114-ball 77.
"We want to grind the Indian bowlers so that they have no chance of coming back in this match. I believe that we have enough time in our hand to get them out in the second innings," a confident Petersen told reporters after South Africa ended the second day with a 230-run lead, scoring 366 for two in their first innings in reply to India's 136.
"We have no plans for declaration. We are not satisfied with whatever lead we have in our hand. We have dominated for first two days and we want to keep on dominating in this match," he added.
Petersen said unlike the Indians, the South African batsmen stuck to their basics and gave themselves enough time to see off the new ball.
"We focused on the basics and that is the secret of our success," he said.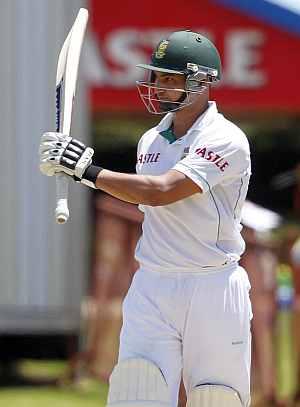 "I think to bat well on this wicket you need to give yourself some time. Leaving the ball was equally important. We knew that new ball will be dangerous. It was moving around.
"So I and Graeme did not score much runs in the first 10 overs. Once that period was over then we started knocking the ball around.
"It was yet another perfect day for us. All that we planned we could execute on the field. I think the wicket is getting quicker now. That is going to help our bowlers. Fast wicket suits our style of bowling," he added.
Although South Africa dominated India in the first two days, Petersen said he would like to focus on their own performances rather than ridiculing the Indian team.
"You must give respect to what Indian team has achieved in the last one year. They were caught on tricky wicket. Our bowlers took full advantage of the situation. So I would like to give credit to our performance then criticising Indian team," he said.
Asked what was their strategy against Harbhajan Singh, Petersen said they kept rotating strikes and didn't allow the off-spinner to settle down.
"Our plan was not to allow him to settle in to rhythm. Harbhajan is top class bowler. So it was our prime objective to keep rotating strike against him. And I think we succeeded doing that," he said.
Harbhajan was the only successful bowler for India on day two as he scalped both the wickets of Graeme Smith and Alviro Petersen.