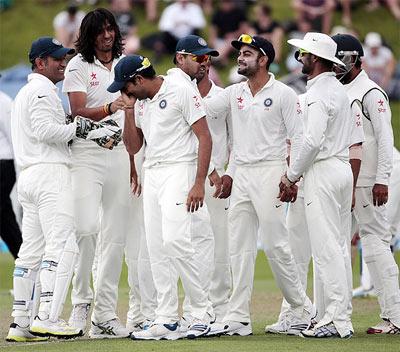 India benefited from the annual update of the International Cricket Council's Test rankings as it gained four points and two places to occupy fourth in the latest chart issued on Monday.

In the annual update, the results from 2011-12 were dropped from the calculations and outcomes from the 2013-14 series weighted at 50 per cent. Thus, India's heavy defeats against England and Australia in 2011-12 were no longer taken into account.

South Africa extended its advantage over Australia from six points to 22 points at the top of the ICC Test rankings following the annual update. Australia lost 10 points from the annual update while South Africa gained six.

The annual update saw a reshuffle in the middle of the pack and now just three rankings points separate third-ranked New Zealand from seventh-ranked
Sri Lanka. Prior to the annual update, the gap between the third and seventh ranked sides was seven points.
Fifth-ranked England and sixth-ranked Pakistan slipped on the ladder after dropping five points apiece. This was after England's 4-0 win over India and Pakistan's 3-0 clean sweep over England among other results in 2011-12 were dropped from the rankings calculations.
Eighth-ranked West Indies gained five ratings points to reduce the gap with seventh-ranked Sri Lanka from 17 points to 12 points, while Bangladesh collected six points and Zimbabwe dropped 13 points as the difference between the two bottom-ranked sides increased to 34 points.
As fifth-ranked England take on New Zealand in a two-Test series on May 21 and sixth-ranked Pakistan travel to Sri Lanka next month for a three-Test series, the series outcomes may well result in significant movements on the ICC Test rankings.