The Pakistan Cricket Board has picked a 10-member delegation of former players, who will act as goodwill ambassadors in India during the much-anticipated bilateral series next month, but questions are being raised about the choices made by the PCB.
-Indo-Pak series could have been longer: Zaheer Abbas
The Board's Executive Coordination Committee has decided to invite the legends to witness the matches between India and Pakistan in December and to help foster better relations between the two countries.
-Pakistan kick-off India tour with T20 in Bangalore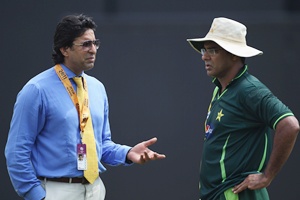 The committee noted that these cricketers have rendered valuable services for Pakistan cricket and are asset for not only PCB but for the country as a whole.
"These players will be goodwill ambassadors for Pakistan Cricket and can help in improving the cricketing relations between two countries," a PCB statement said.
But interestingly some leading names are missing from the list namely former captains Asif Iqbal, Inzamam-ul-Haq, Wasim Akram, Waqar Younis, Rashid Latif, Moin Khan and even Javed Miandad.
A PCB spokesman explained the list was prepared in chronological order in terms of debuts made by the players selected.
"The selected players are those who made their debuts in 50, 60s and 70s and we will consider the others in future events as well," the spokesman said.
The selected players include Hanif Mohammad, Imtiaz Ahmed, Majid Khan, Zaheer Abbas, Mushtaq Mohammad, Imran Khan, Javed Burki, Wasim Bari, Intikhab Alam and Sadiq Mohammad.
But critics in the cricket community have questioned the criteria on the basis of which the players were picked.
"Certainly by no stretch of imagination can you describe Burki, Intikhab or Sadiq as legends of Pakistan cricket," one former player said.
Another player questioned the need to pick players in chronological order.
"It is a positive move by the PCB but the best thing would have been to send two players from one particular era to a venue that way the legends we produced in the 80s and 90s would not have been ignored," he said.
Photograph: Michael Steele/Getty Images