- Gone are the days when an Indian captain had to spend considerable amount of time trying to figure out where to hide his slow-moving fielders and pace bowlers.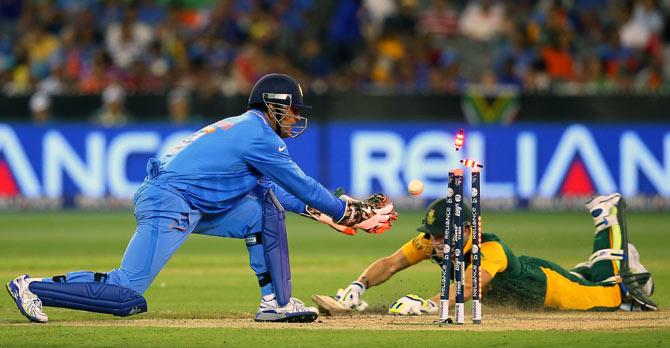 Mahendra Singh Dhoni runs out David Miller of South Africa. Photograph: Quinn Rooney/Getty Images
It is one of the accepted truths of international cricket that fielding is not India's particular forte but Mahendra Singh Dhoni's men have taken bold steps towards altering that reputation at the ICC World Cup.
- Prem Panicker: India sustain their intensity, to a point

Too often in the past, India's fast bowlers have been liabilities in the field, while during the recent Test series in Australia the team's close-in catching was simply woeful.

The infusion of some young, athletic fielders had already led to an improvement in India's performance in that aspect of limited-overs matches but the team took it to an even higher level last Sunday, outshining even South Africa.

India did enough with both bat and ball during their 130-run win in their second World Cup match but what might have surprised South Africa, known for their agility and tight fielding, was the athleticism of their opponents.

"What we know is that we can add minimum 10 to 15 runs to whatever we score with the kind of fielders that we have got," skipper Dhoni later said.

"There may be one fielder or two slightly slower than the others, but by no means are we bad fielders. I think we have got some excellent fielders, and apart from that we have got fast bowlers who are above average fielders."
Mohammed Shami takes a catch to dismiss South Africa opener Hashim Amla. Photograph: Quinn Rooney/Getty Images
Gone are the days when an Indian captain had to spend considerable amount of time trying to figure out where to hide his slow-moving fielders and pace bowlers.

It was two Indian pacemen that brought about probably the two most crucial moments during South Africa's chase of India's total of 307-7 at the Melbourne Cricket Ground -- not with the ball but from the outfield.

AB de Villiers, scorer of the fastest ODI century, decided to take on Mohit Sharma's arm for a second run but a flat and accurate throw to Dhoni from deep cover found the South Africa captain short of his crease.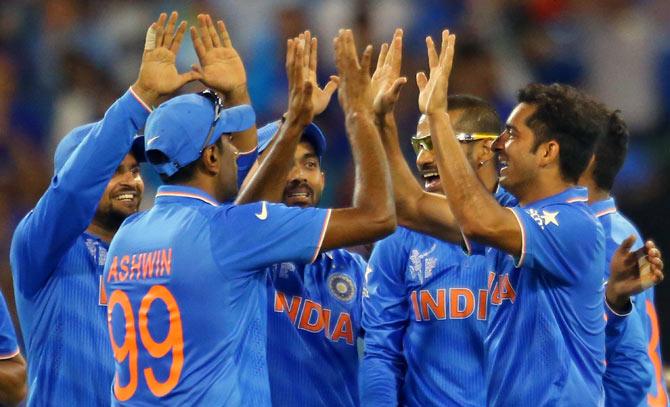 India's players celebrate the dismissal of AB de Villiers. Photograph: Scott Barbour/Getty Images
That ended a 68-run stand for the third wicket for South Africa, forcing the nimble-footed de Villiers to trudge back to the pavilion.

Big-hitter David Miller was the next man to fall prey to another run out, fast bowler Umesh Yadav this time with a flat throw to Dhoni from deep square leg.

Left-hander Miller had already lived up to his billing of a match-winner by blasting an unbeaten 138 off 92 deliveries in South Africa's World Cup opener against Zimbabwe.

India's fielding inside the 30-yard circle was also electric, improving the spectacle for the majority of the crowd of 86,000 backing the world champions.

"Overall I've got plenty to play with. I don't always have to think about which player needs to go where," a satisfied Dhoni added after the match.

"I have time to think more about the strategies rather than trying to use four or five good fielders and seeing what's really needed, whether I need to stop the singles or I need boundary riders who can stop the twos and the threes.

"That actually eases the pressure on me."
- VOTE: Who will win the 2015 World Cup?