Andrew Strauss and Andy Flower have become the toast of the nation following England's ascendancy to the top in Test cricket but a media report said it was now-India coach Duncan Fletcher, who actually kick started their journey to the pinnacle.
The report also credited former ECB Chairman Lord MacLaurin of Knebworth for radically transforming the English cricket.
It said, Fletcher was determined to check the flaws in the system and one such step was implementation of the concept of awarding central contracts to the players.
"Leadership is key, and this team are superbly led by Andrew Strauss and Andy Flower. The players work hard, making them the fittest team in world cricket...But the longer journey had begun in the late nineties when English (and Welsh!) cricket was generally an embarrassment, so lamentable that in 1999 they were briefly ranked as the worst Test team in the world.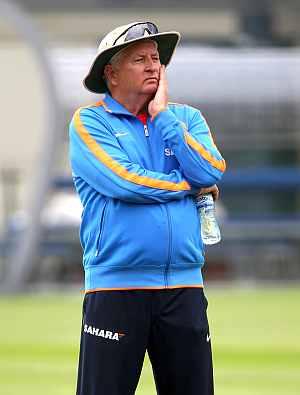 "Lord MacLaurin of Knebworth had his detractors as the newly-formed England and Wales Cricket Board's first chairman, but without his radical modernisation methods the heady successes currently being enjoyed would simply not have been possible," the report in Daily Telegraph said.
"The most significant upshot the introduction of central contracts. These are quite simply the most important factor in England's re-emergence as a Test nation.
"Some might say that when Duncan Fletcher took over as coach in 1999 he was fortunate that his arrival coincided with those contracts....but he actually faced a horrible task in implementing those contracts," according to the report.
"For a hundred years and more the counties had basically done as they wished; now they were being told by some stern-faced and grey-haired Zimbabwean that they could not have their players when they wanted, even when England were not playing. It was a huge, often acrimonious, change."
The report said, "Fletcher, for all his frustration at India's current failings, knows the part he has played in England's resurgence. Along with Hussain he toughened England up. With Michael Vaughan he then advanced their skill levels to the point where they could defeat the great Australia team.
"Most of Fletcher's key mantras are still evident: fitness, fielding, strong lower-order batting and bowlers above 85mph, able to reverse-swing the ball."