Veteran batsman Rahul Dravid was the only Indian who held his own as England players ran away with batting and bowling honours in the four-match Test series which the home side won 4-0.
Kevin Pietersen and Ian Bell led the batting charts with 533 and 504 runs (averages of 106.60 and 84) respectively, with a double ton and a hundred each.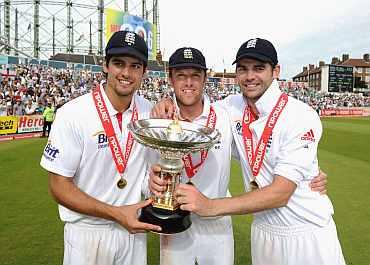 Dravid was the third overall and highest run-getter among Indians with 461 at an average of 76.83 with three hundreds.
England ODI captain Alastair Cook was fourth with 348 runs at an average of 48 with one hundred.
Sachin Tendulkar, who failed to notch up a single century from eight innings to miss out on a historic 100 international ton, was fifth in the batting list with 273 runs at an ordinary average of 34.12. He hit just two half centuries with the 91 he made at the Oval yesterday being the highest.
His captain Mahendra Singh Dhoni, who had nothing extraordinary in the series as a captain and a wicketkeeper, was eighth in the list of run-getters with 220 at an average of 31.42. He hit two half centuries.
Among the bowlers, England's Man of the series Stuart Broad led the chart with an exceptional figure of 25 wickets from four matches at an average of 13.84 with 6/46 his best in an innings.
Broad's pace colleagues James Anderson and Tim Bresnan were second and third highest wicket-takers in the series with 21 and 16 scalps respectively.
Praveen Kumar was the most successful Indian bowler and fourth overall with 15 wickets from three matches at an average of 29.53. England off-spinner Graeme Swann took 13 wickets from four matches.
Praveen's pace colleagues Ishant Sharma and S Sreesanth took 11 and eight wickets from four and three matches with poor averages of 58.18 and 61.62 respectively.
Top 10 Run Scorers:
| | | | | | | | |
| --- | --- | --- | --- | --- | --- | --- | --- |
| Player | M | I | Runs | HS | Ave | 100 | 50 |
| Kevin Pietersen | 4 | 6 | 533 | 202* | 106.60 | 2 | 2 |
| Ian Bell | 4 | 6 | 504 | 235 | 84.00 | 2 | 0 |
| Rahul Dravid | 4 | 8 | 461 | 146* | 76.83 | 3 | 0 |
| Alastair Cook | 4 | 6 | 348 | 294 | 58.00 | 1 | 0 |
| Sachin Tendulkar | 4 | 8 | 273 | 91 | 34.12 | 0 | 2 |
| Matt Prior | 4 | 6 | 271 | 103* | 67.75 | 1 | 2 |
| Andrew Strauss | 4 | 6 | 229 | 87 | 38.16 | 0 | 1 |
| MS Dhoni | 4 | 8 | 220 | 77 | 31.42 | 0 | 2 |
| Eoin Morgan | 4 | 6 | 194 | 104 | 32.33 | 1 | 1 |
| Stuart Broad | 4 | 4 | 182 | 74* | 60.66 | 0 | 2 |
Top 10 Bowlers:
| | | | | | | |
| --- | --- | --- | --- | --- | --- | --- |
| Player | M | Runs | W | BBI | BBM | Ave |
| Stuart Broad | 4 | 346 | 25 | 6/46 | 8/76 | 13.84 |
| James Anderson | 4 | 540 | 21 | 5/65 | 7/152 | 25.71 |
| Tim Bresnan | 3 | 261 | 16 | 5/48 | 7/96 | 16.31 |
| Praveen Kumar | 3 | 443 | 15 | 5/106 | 7/169 | 29.53 |
| Graeme Swann | 4 | 529 | 13 | 6/106 | 9/208 | 40.69 |
| Ishant Sharma | 4 | 640 | 11 | 4/59 | 5/197 | 58.18 |
| S Sreesanth | 3 | 493 | 8 | 3/77 | 5/212 | 61.62 |
| Chris Tremlett | 1 | 124 | 4 | 3/80 | 4/124 | 31.00 |
| Suresh Raina | 4 | 251 | 4 | 2/58 | 2/58 | 62.75 |
| Amit Mishra | 2 | 320 | 3 | 3/150 | 3/150 | 106.66 |