Former Australia fast bowler Glenn McGrath will take over the role of Director at the MRF Pace Foundation from compatriot Dennis Lillee, who has opted out after serving the academy for 25 years.
The 63-year-old Lillee, who was associated with the academy since its inception in 1987 and had successfully, turned it into an internationally-renowned destination for fast bowlers looking to sharpen their skills, announced last month that this would be his final year at the foundation.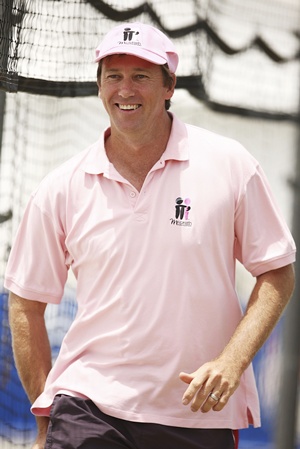 McGrath, who will be officially taking charge from Lillee, said though it would be hard to live up to the legacy, he would strive to do his best.
"It is a tough assignment and I would be happy if I can achieve half of what Dennis had successfully done. I would like to do what I love to do and would like to give back what I have gained from the game," he said
"It is a great honour for me to work with the MRF Pace foundation. I know it will not be possible to replace someone like the great Dennis Lillee, whose legacy is hard to live up to but I will strive to do my best," added McGrath, who had trained at the academy under Lillee in 1992-93.
McGrath hailed India's bowling spearhead Zaheer Khan, saying that he was one of the bowlers to have impressed him the most.
Lillee, meanwhile, cited his age as the main reason behind his decision to bid adieu to the academy.
"With this 25 years of worthy service and 63 plus age, I do not want to travel away from home anymore. Because of the family and the age, you got to look at new ideas," said Lillee.
Praising the MRF management, Lillee said, "My biggest triumph is to have succeeded in starting the academy from the scratch...built it from nothing to what it is today.
"Success would not have come but for the support I received from MRF Management. They allowed me to do it my way."
Photograph: Brendon Thorne/Getty Images