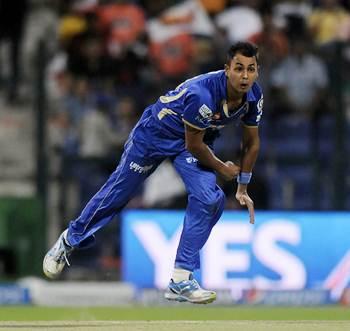 Bangladesh pacer Taskin Ahmed bagged five wickets for 28 runs on debut as India were dismissed in 25.3 overs in the second ODI in Mirpur.
But the pace combination of Stuart Binny (6-4) and Mohit Sharma (4-22) saved India from humiliation by bundling out the hosts for just 58 in 17.4 overs.
Following the nail-biting match Rajneesh Gupta presents some interesting statistics.
After winning the first game of three-match series against Bangladesh rather easily, India was in for a rude shock in the second One-Day International as they were bundled out for 105, their lowest total against Bangladesh.
Taskin Ahmed, the debutant, was the wrecker-in-chief for the home side, claiming five wickets for 28 runs in his eight overs.
His figures are the fifth best by a bowler making his ODI debut.
The young Indian side was not ready to go down without a fight, though, and medium pacers Mohit Sharma and Stuart Binny were up to the task.
They shared the ten Bangladesh wickets to fall as the hosts collapsed to 58, equalling their lowest ever total in ODIs.
It was also the lowest total by any side against India.
Binny had a memorable match, returning figures of 6 for 4 in his 4.4 overs. His figures are now the best by an Indian bowler in ODIs, bettering Anil Kumble's 6 for 12 against the West Indies in Hero Cup final in 1993.
His figures are also the second most devastating for a bowler taking four wickets or more in a match.
India's total is the third lowest total in game's history that a side managed to defend.
The match aggregate of 163 is the lowest ever when teams were dismissed.
Best bowling figures on ODI debut
| | | | | | |
| --- | --- | --- | --- | --- | --- |
| Wkts | Runs | Bowler | Vs | Venue | Year |
| 6 | 22 | Fidel Edwards (WI) | Zimbabwe | Harare | 2003 |
| 5 | 21 | Tony Dodemaide (Aus) | Sri Lanka | Perth | 1988 |
| 5 | 26 | Shaul Karnain (SL) | New Zealand | Moratuwa | 1984 |
| 5 | 27 | Austin Codrington (Can) | Bangladesh | Durban | 2003 |
| 5 | 28 | Taskin Ahmed (Ban) | India | Dhaka | 2014 |
| 5 | 29 | Allan Donald (SA) | India | Kolkata | 1991 |
| 5 | 30 | Brian Vitori (Zim) | Bangladesh | Harare | 2011 |
| 5 | 67 | Buddika Fernando (SL) | Zimbabwe | Sharjah | 2001 |
Lowest totals successfully defended in ODIs
| | | | | |
| --- | --- | --- | --- | --- |
| Total | For | Vs | Venue | Year |
| 87-9 | Pakistan | India | Gujranwala | 1989 |
| 101-9 | Australia | West Indies | Sydney | 1992 |
| 105 | India | Bangladesh | Mirpur | 2014 |
| 119-3 | India | Sri Lanka | Port -of-Spain | 2013 |
| 121-6 | England | India | Chandigarh | 1985 |
| 124-7 | West Indies | Bangladesh | Kingstown | 2004 |
Lowest all-out totals against India
| | | | | |
| --- | --- | --- | --- | --- |
| Total | Overs | For | Venue | Year |
| 65 | 24.3 | Zimbabwe | Harare | 2005 |
| 76 | 27.3 | Bangladesh | Dhaka | 2003 |
| 87 | 32.5 | Pakistan | Sharjah | 1985 |
| 90 | 37.1 | Kenya | Bloemfontein | 2001 |
| 96 | 41 | Sri Lanka | Sharjah | 1984 |
| 96 | 24.4 | Sri Lanka | Port -of-Spain | 2013 |
| 98 | 39 | Sri Lanka | Sharjah | 1998 |
Lowest match aggregates
(where both teams got dismissed)
| | | | | |
| --- | --- | --- | --- | --- |
| Total | Overs | Teams | Venue | Year |
| 163 | 43.1 | Ban-Ind | Mirpur | 2014 |
| 203 | 65.4 | Ken-Zim | Harare | 2006 |
| 212 | 75.3 | Ind-Pak | Sharjah | 1985 |
| 229 | 79.1 | Zim-WI | Sydney | 2001 |
| 241 | 79.1 | Eng-Aus | Birmingham | 1977 |
| 244 | 85.2 | SA-Eng | East London | 1996 |
Best bowling figures for India in ODIs
| | | | | |
| --- | --- | --- | --- | --- |
| Figures | Bowler | Vs | Venue | Year |
| 6-4 | Stuart Binny | Bangladesh | Mirpur | 2014 |
| 6-12 | Anil Kumble | West Indies | Kolkata | 1993 |
| 6-23 | Ashish Nehra | England | Durban | 2003 |
| 6-27 | Murali Kartik | Australia | Mumbai WS | 2007 |
| 6-42 | Ajit Agarkar | Australia | Melbourne | 2004 |
Bowlers taking more wickets than runs conceded in an ODI
(Minimum 2 wickets)
| | | | | |
| --- | --- | --- | --- | --- |
| Figures | Bowler | Vs | Venue | Year |
| 6-4 | Stuart Binny (Ind) | Bangladesh | Mirpur | 2014 |
| 5-1 | Courtney Walsh (WI) | Sri Lanka | Sharjah | 1986 |
| 4-3 | Phil Simmons (WI) | Pakistan | Sydney | 1992 |
| 3-2 | Upul Chandana (SL) | Bangladesh | Colombo SSC | 2002 |
| 3-2 | Jacob Oram (NZ) | Kenya | Chennai | 2011 |
| 2-0 | AJ Bichel (Aus) | Namibia | Potchefstroom | 2003 |
| 2-1 | Carl Hooper (WI) | South Africa | Cape Town | 1993 |
| 2-1 | Shahid Afridi (Pak) | Australia | Hobart | 1997 |
| 2-1 | Muttiah Muralitharan (SL) | Zimbabwe | Colombo SSC | 2001 |
Most devastating bowling figures in ODIs
(Minimum 4 wickets)
| | | | | | |
| --- | --- | --- | --- | --- | --- |
| Runs/ wkt | Figures | Bowler | Vs | Venue | Year |
| 0.20 | 5-1 | Courtney Walsh (WI) | Sri Lanka | Sharjah | 1986 |
| 0.66 | 6-4 | Stuart Binny (Ind) | Bangladesh | Mirpur | 2014 |
| 0.75 | 4-3 | Phil Simmons (WI) | Pakistan | Sydney | 1992 |
| 1.00 | 4-4 | Tillakaratne Dilshan (SL) | Zimbabwe | Pallekele | 2011 |
| 1.20 | 5-6 | Sunil Joshi (Ind) | South Africa | Nairobi | 1999 |
| 1.40 | 5-7 | Daniel Vettori (NZ) | Bangladesh | Queenstown | 2007 |
Image: Stuart Binny
Photograph: BCCI