There couldn't have been a turning point per se for the Australians on the day. They had ceded advantage on the opening day itself.
There were no turning points when it came to the Indian batting as well. The home side had amassed enough to ensure they won't be batting again. Well, almost.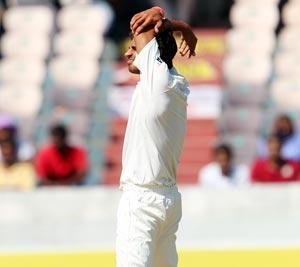 However, the Indian fielding has been a perennial problem and Monday was no different. Needing 267 runs to make India bat again, Australia expectedly started on a tentative note.
But India, being good hosts, did show some hospitality on the field. Bhuvneshwar Kumar, having started with three successive maidens, suffered twice over.
In his third over, Virat Kohli was guilty of letting off David Warner (on 13) at gully, and in his fourth, the Indian captain failed to hold onto an edge from Ed Cowan (when he was yet to score).
The Australian pair managed to put on 56 runs for the opening wicket to ease the pressure. Even though R Ashwin hit back with a couple of wickets, the home team were left to rue the missed opportunities.
The visitors were allowed the comfort of having additional wickets on the fourth morning with the two dropped chances considerably helping their cause.
It could have been worse for them.
Photograph: BCCI