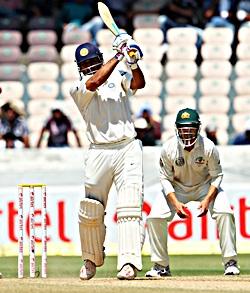 It might not have been a very sporting decision, but a pragmatic one nonetheless.
As played resumed after lunch India had a very healthy lead (163 runs), with seven first innings wickets intact. The second session, though, witnessed wickets falling in a heap.
- Images
However, instead of declaring, and thereby having ample time to bowl at the opposition, the home team preferred to play it out.
The decision ensured the otherwise expensive Australian spinners, Glenn Maxwell and Xavier Doherty, a handful of wickets.
At the same time MS Dhoni (44) and Virat Kohli (34) added to the Indian total. As a result, the home team increased their lead further to 266 – adding 103 runs in the second session.
It increased the pressure on the Australian batsmen and earned India rich dividends, the home team doing well to send two of the visiting batsmen back to the pavilion by close of play.
Photograph: BCCI