In an unprecedented move, Australia axed vice-captain Shane Watson and three other key players from the side on Monday for the third Test against India for failing to obey team management orders.
Watson, pacers James Pattinson and Mitchell Johnson and batsman Usman Khawaja were dropped for failing to make a presentation on how to improve their personal as well as the team's performance after the innings and 135 runs defeat in the second Test in Hyderabad.
"That's a line-in-the-sand moment. We have given these guys absolute clarity," Australia coach Mickey Arthur said, while making the announcement at a press conference in Mohali.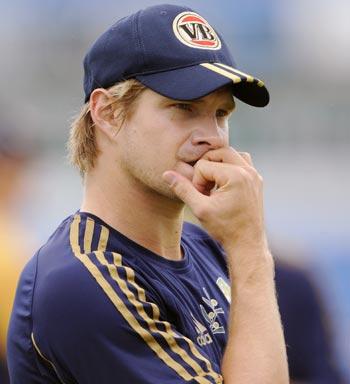 The stunning turn of events leaves Australia, trailing 0-2 in the series, with just 13 players to choose from for the third Test starting at Mohali on Thursday.
"After Hyderabad the whole team was really hurting, we were discussing ways of getting back into the series," Arthur said.
"We were particularly aware of where we were as a team and how we were going to get back. I asked the players at the end of the game to give me an individual presentation.
- Are struggling Aussies going the Windies way?
"I wanted three points from each of them technically, mentally and team as to how we were going to get back over the next couple of games, how we were going to get ourselves back into the series," he added.
Arthur said the dropped players failed to meet the deadline set for making the presentation and it was important to maintain team discipline by punishing them.
"Unfortunately four players didn't comply with that. We pride ourselves on attitude. We have given the players a huge amount of latitude to get culture and attitude right," Arthur said.
"We believe that those behaviours with what we want to do with this team, how we want to take this team to be the best in the world, teams that are the best in the world have best attitudes and best behaviour patterns and a good, hard, ruthless culture.
"I believe those four players unfortunately did not meet my requirements so those four are not available for selection for this Test match," he added.
Arthur said, to become world-beaters, the Aussies will have to fall in line when it comes to discipline.
"We have given this team a huge amount of time to buy in with what we want to do for the Australian cricket team. We have given a vision to these guys that is spelt out.
"We've given an expectation that is spelt out and although this incident might seem very small in isolation this is a line-in-the-sand moment for us as a unit in our quest to become the best in the world," he said.
Arthur said even skipper Michael Clarke feels that it was time to crack the whip in what has been a thoroughly disappointing series for the team from Down Under.
"I think the best thing that these three days off have given me is reflection time, to reflect on how well have I been going in my job, like I expect everyone else to do when you're 2-0 down in the series.
"Myself and Pup (Clarke) came to the conclusion that we have been so focused on winning cricket games that maybe some people have been cutting corners. Perhaps there have been some soft options taken. We decided that we needed to really get that in line," he said.
This is perhaps the first time in the history of the game that players have been dropped for not making a presentation and comes as a massive blow to the team, which is likely to be without wicketkeeper Matthew Wade due to injury.
Brad Haddin is being flown in as cover for Wade, who sprained his right ankle on Saturday while playing basketball.
Pattinson, who is their in-form bowler, will be missed badly as the track in Mohali is expected to assist the seamers.
Khawaja was expected to replace Phil Hughes in the team but that has now been ruled out, providing the out-of-form number three batsman another opportunity to prove his worth.
Mitchell Johnson, the fourth player to be dropped, hasn't played a single match on the tour yet.
Available players: Michael Clarke (captain), David Warner, Ed Cowan, Phillip Hughes, Moises Henriques, Glenn Maxwell, Steven Smith, Peter Siddle, Mitchell Starc, Xavier Doherty, Nathan Lyon, Brad Haddin (wk).