'Batting at No 4 is my forte'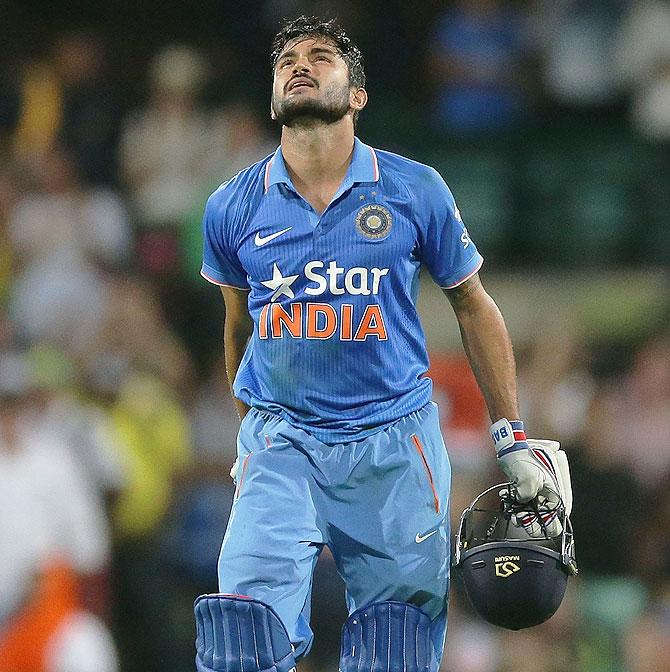 IMAGE: India's Manish Pandey celebrates and acknowledges the crowd after scoring a century on Saturday. Photograph: Mark Metcalfe/Getty Images
India's newest batting star Manish Pandey said No 4 is the slot where he feels most comfortable batting.
Pandey scored a match-winning century in the fifth and final ODI against Australia at the Sydney Cricket Ground on Saturday that helped India evade a series whitewash.
The Bangalore batsman said that before the start he had visualised in his mind that he would have a good day.
"I had pictures in my mind about raising my bat, kissing the helmet. There were nerve-wrecking moments. It was good that my partnership with everybody (with Rohit Sharma and Dhoni) came off.
"This is one of the most thrilling games that I have been a part of, especially being out there in the middle. Seeing the team through playing those deliveries," said Pandey, who is also the first Indian centurion in the Indian Premier League.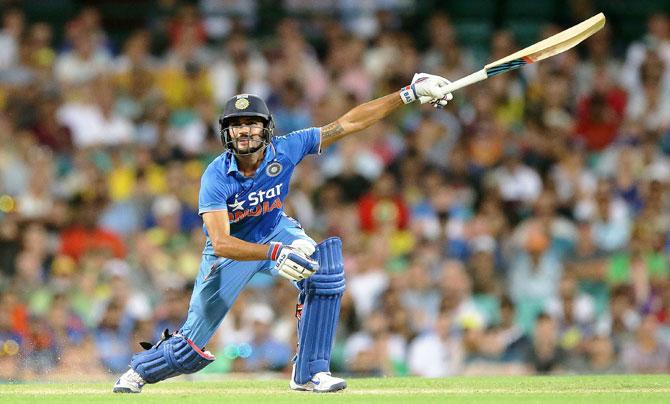 IMAGE: Manish Pandey bats. Photograph: Mark Metcalfe/Getty Images
That super innings could now lead to a selection conundrum once Ajinkya Rahane, who normally bats at No 4, recovers from his webbing injury.
Incidentally, skipper Mahendra Singh Dhoni believes that "No 5" is Pandey's ideal position.
"Batting at No 4 is my forte. It suits my batting style. In the earlier two matches, I did not get much time to bat. My style is to play the first three or four deliveries to gauge the pitch and change my style accordingly. It's difficult to hit boundaries every ball, so you need to take the singles and twos and then capitalise on the loose deliveries," Pandey told bcci.tv on Saturday.
While Pandey wants to push his case for the No 4 slot, his limited overs captain feels otherwise.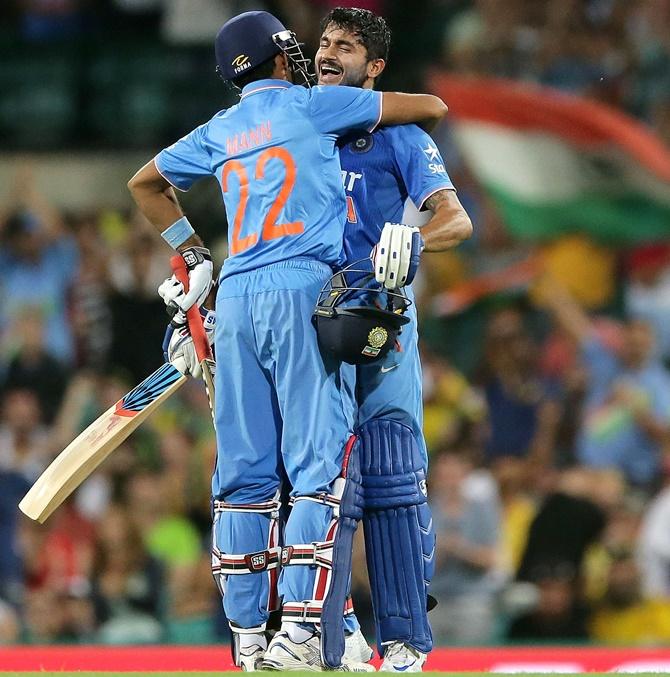 IMAGE: India's Manish Pandey celebrates with Gurkeerat Mann Singh. Photograph: Mark Metcalfe/Getty Images
"The kind of innings Manish has played today will give him an extra 10-15 ODIs, where you can really settle in and start to do what you need to at the international level, adapting to the demands of the game. A lot will change when you play at different venues and in different conditions. As of now he is someone who looks good at No 5," Dhoni had said after the match on Saturday.
The Karnataka batsman was modesty personified when he gave Dhoni, the credit for hitting a winning six in the last over.
"When we were batting together, I told Mahi bhai that one or two sixes will do it for us. Luckily, the bowler (Mitchell Marsh) missed the length and that six was the turning point of the match," said the 27-year-old.